6+1+1 vs ay&me - Which Line is Best for My Skin?
How to choose the best line for your unique skin
With the recent launch of our new line ay&me, a skincare line made for and by our community, we have been getting increased interest from our community members about which line out of our two lines would be best for their skin type.

In order to best help our community, we decided that it would be a good idea to go into detail about each line and what makes them unique, to help you make an educated decision when making a purchase.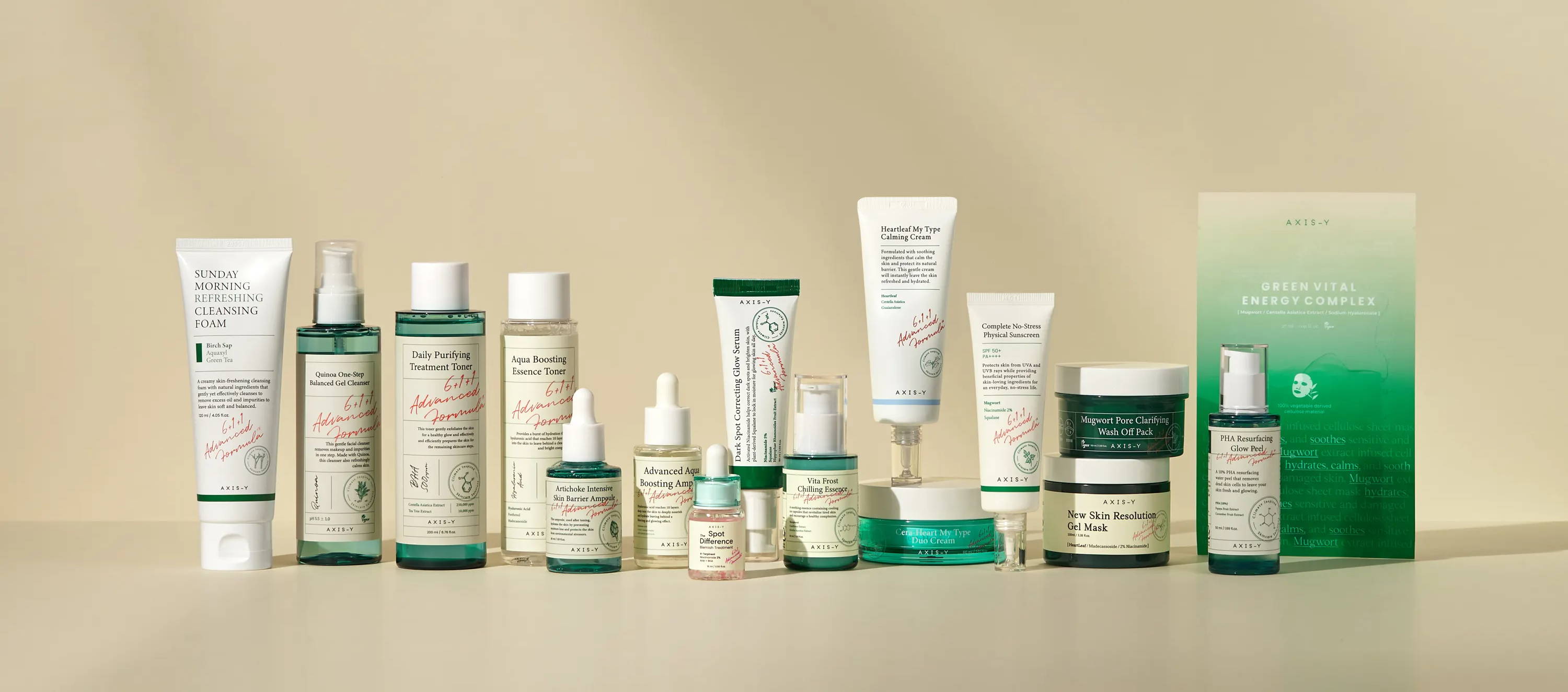 Named after our unique formulation, our 6+1+1 Line is our original line which came about with the creation of our brand. The unique formulation that this line is based on is a combination of 6 nutrient-rich base ingredients, 1 core goal-oriented ingredient and 1 quality-producing effective technology. Each of the products' main effects and purposes are based on these key ingredients. With this formula we are able to ensure that each product is packed full of nourishing, effective ingredients which directly improve the skin, whether that be through soothing, calming, reducing acne or dark spots, or hydrating.
Dark Spot Correcting Glow Serum
Our Dark Spot Correcting Glow Serum is one of our most popular products, and for a good reason. It features 5% Niacinamide as its core ingredient, which is a water soluble vitamin which works to brighten the skin, also improving uneven skin tone and dull skin. The effective technology in this product is the combination of Rice Bran and Niacinamide, which are combined at an optimal ratio which helps to effectively have a brightening effect on the skin. The six base ingredients are Sqaualane, Papaya, Sea Buckthorn, Rice Bran, Allantoin, and Calendula. The main effects of each base ingredient can be seen below.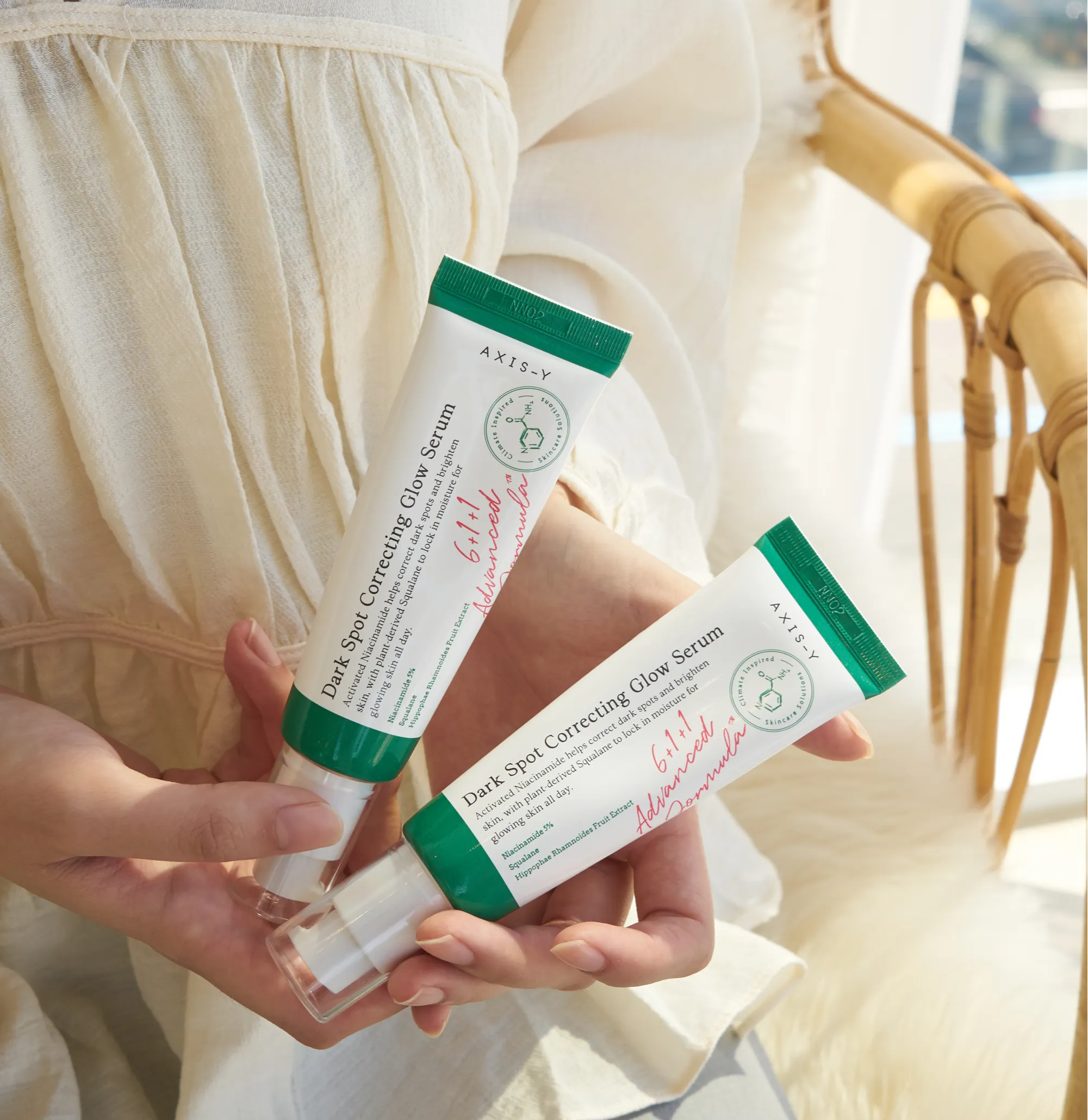 Through using these 6 base ingredients along with the core ingredient and effective technology, we have been able to develop products which were able to tackle a specific skin issue while having a variety of nourishing ingredients which are all beneficial to the skin.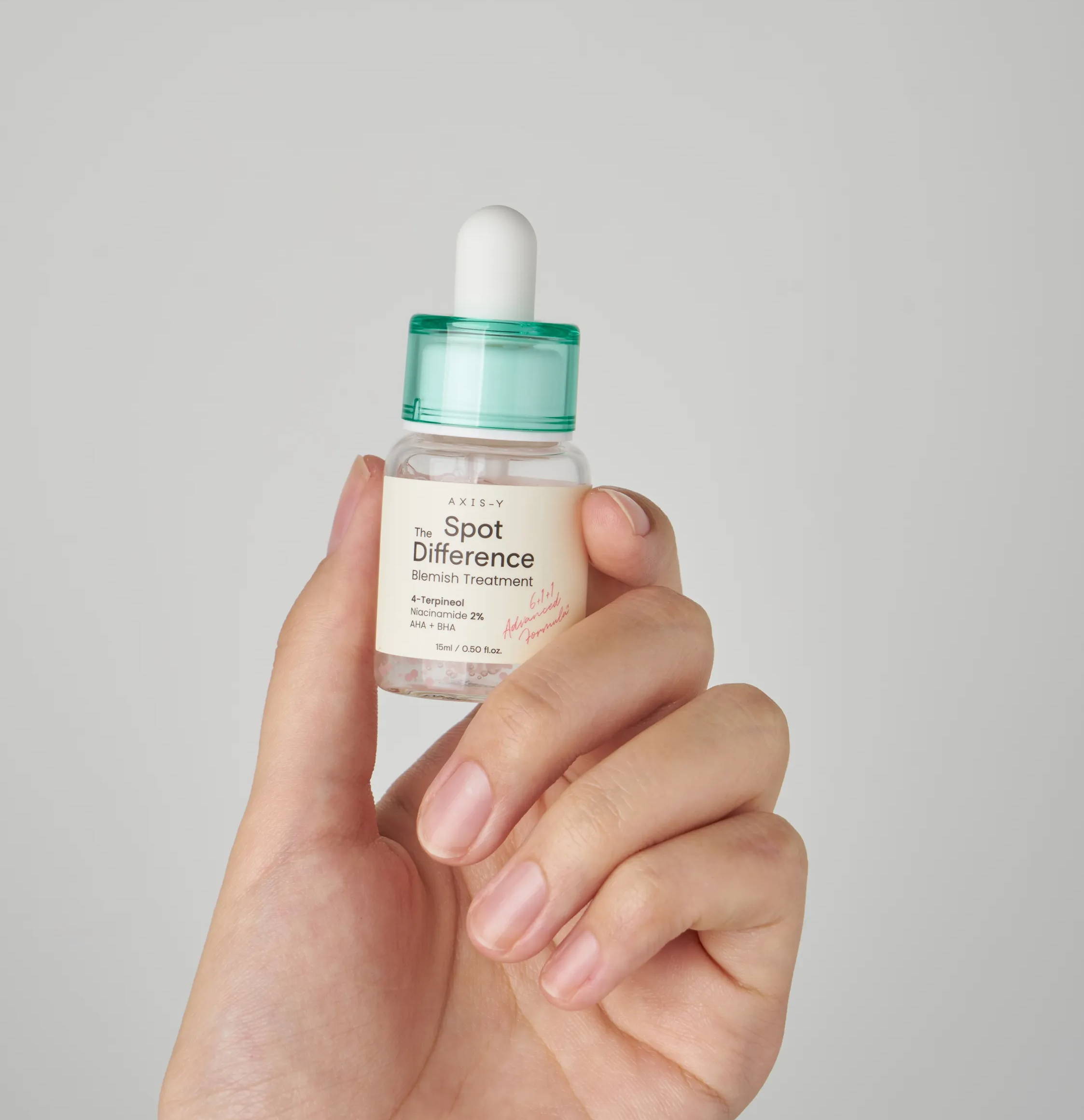 Spot The Difference Blemish Treatment
Our Spot The Difference Blemish Treatment is another one of our community favorites. With our Spot The Difference Blemish Treatment we take a gentle approach to acne care, aiming to hydrate the acne, nourish the skin, and reinforce the skin barrier at once. By using our 6+1+1 formula, we are able to target blemishes directly using the core ingredient 4-Terpineol, which is the main active ingredient derived from Tea Tree Extract. And with the effective technology of Phyto-Oligo 1%, which is a plant complex consisting of hollyhock flower and aloe vera extracts, the formula soothes blemishes and sensitive skin. The six base ingredients are Tea Tree Extract, Green Tea Leaf, Camphor Leave, Mentha Aquaitca, Licorice Root, and Broadleaf Bamboo.
Breaking down the ingredients and the formula of products from our 6+1+1 line, it is evident that each and every ingredient included in the products from this line are carefully thought out and each product serves its purpose in helping the skin, whether it be hyperpigmentation care, blemish treatment, UV protection, or gentle chemical exfoliation.
Our ay&me line is quite different from our 6+1+1 line. Our ay&me line is the product line that was born from the feedback of our community members. The development process of this line took a total of 2 years, starting with surveys to learn about their personal skin types and the skin issues they regularly experience. Through doing this and conducting in depth market research we were able to get a better understanding of what our community needed and what type of skin care products would be most useful for them. We sent out several samples as well for the key codevelopment influencers to trial and give us their feedback on, based on texture, scent, ingredients, and effects. Through a number of sample testing and feedback, we were able to get a better understanding of what types of products would be most beneficial for our community.
All of the products in our ay&me line feature our Special Biome Blend, which features a unique combination of 5 different probiotics and prebiotics, to help strengthen the skin's natural biome and reinforce the skin barrier. They also feature additional nourishing ingredients such as Mugwort, or wrinkle improving ingredients such as Adenosine.
Biome Recharging Night Renewal Set
Our Biome Recharging Night Renewal Set consists of the Biome Recharging Enhanced Night Balm and the 10 Panthenol Supporting Concentrate which works as a booster. The night balm is formulated with our Special Biome Blend, along with the key ingredients of soothing and calming Mugwort and Centella Asiatica, and the wrinkle reducing ingredient Adenosine. It has a plumping gel-type balm texture which melts smoothly into the skin and makes the skin feel immediately hydrated and plumped. The 10 Panthenol Supporting Concentrate features Panthenol, Hyaluronic Acid, and Ceramide, which helps to keep the skin hydrated and increases the absorption of products while reinforcing the skin barrier. When the product is even after just one night you wake up immediately with a rejuvenated glow.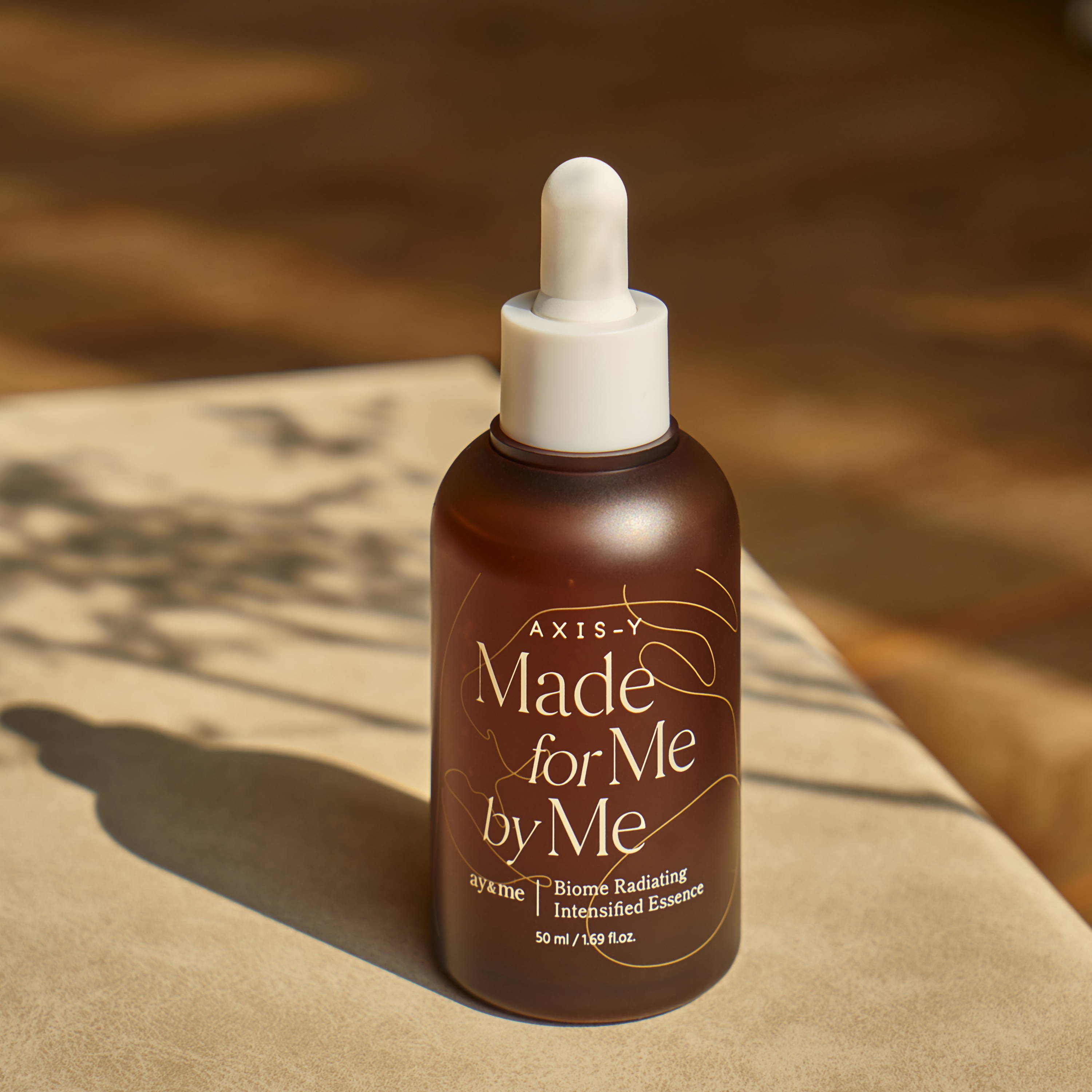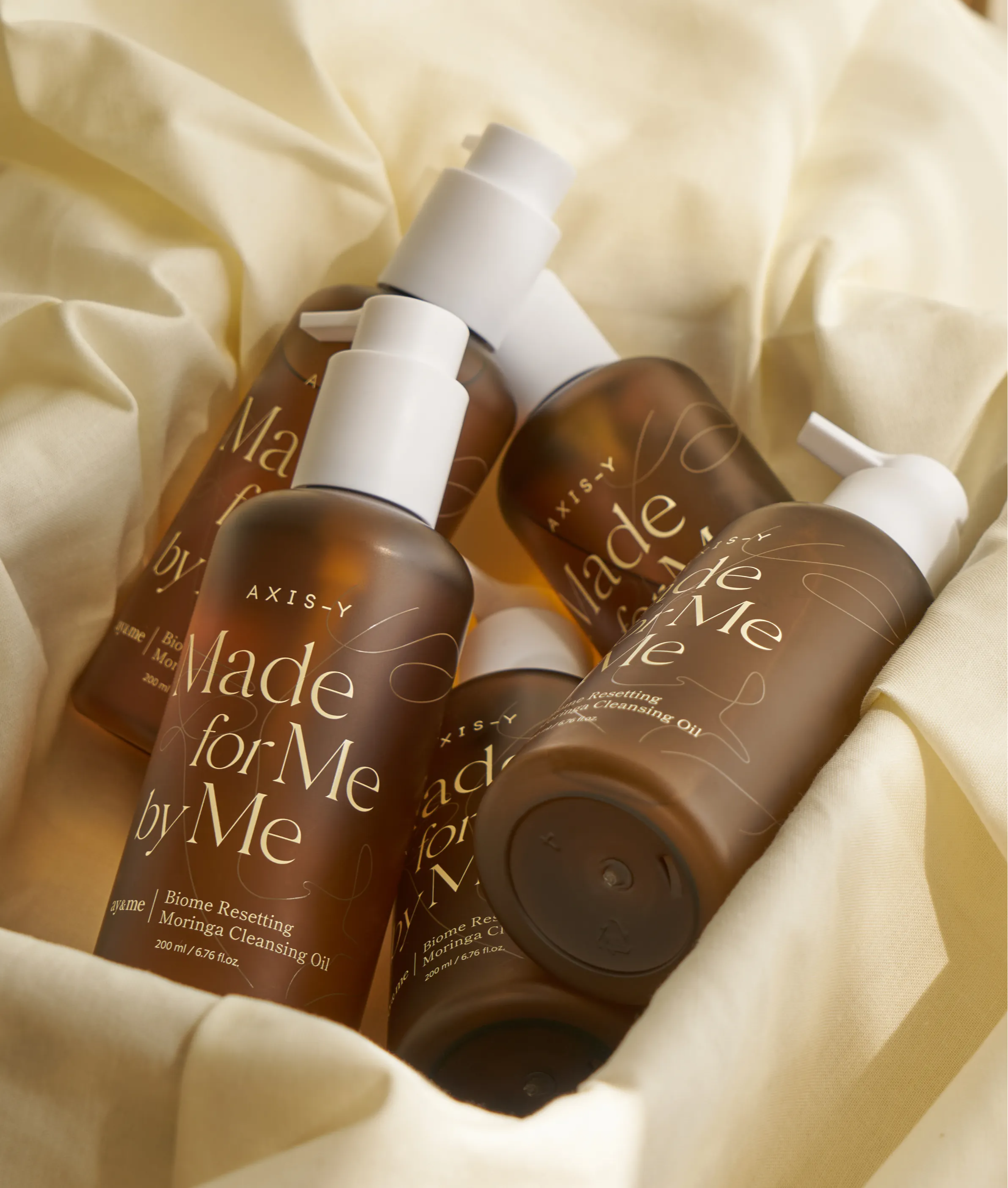 Biome Resetting Moringa Cleansing Oil
Our Biome Resetting Moringa Cleansing Oil is a cleansing oil which utilizes the base ingredient of Moringa Oil. It is a lightweight oil which rolls smoothly over the skin without feeling greasy or heavy. It also emulsifies immediately upon contact with water and rinses off all makeup, dirt, and debris on the skin while also purifying the skin in one step. The cleansing oil also features our Special Biome Blend as well as the key ingredients of Moringa Seed Oil and a "Skin Protector Oil" complex, which is made up of Port Marigold Flower, Soybean, and Sunflower oil. These oils form a protective moisture barrier on the skin, keeping the skin supple and smooth. It is the ultimate one-step cleansing oil for any and all skin types.

6+1+1 and ay&me are both effective lines and each have their individual strengths and benefits. Certain products in the 6+1+1 line are more suited to oily and acne prone skin, while certain products are suited to dry or combination skin. Likewise, certain products in the ay&me line may be more suited to dry or combination skin however there are products which are also just as suited for oily or acne prone skin. A great way to utilize the individual strengths of both lines would be to use a combination of both lines based on which effects they have on the skin.
For example, our "Rejuvenating Skin Soothing Set" utilizes products from both the 6+1+1 and ay&me lines. It includes the PHA Resurfacing Glow Peel and the Heartleaf My Type Calming Cream from the 6+1+1 line and the Biome Comforting Infused Toner and Biome Radiating Intensified Essence from the ay&me line. Starting with the PHA Resurfacing Glow Peel, which gently exfoliates the skin with PHA, the skin is renewed through the shedding of dead skin cells and dirt. Then with the Biome Comforting Infused Toner, the skin barrier is reinforced and the water-oil balance of the skin is restored. Afterwards, the Biome Radiating Intensified Essence, which both improves the natural biome of the skin and also improves the appearance of fine lines and wrinkles. Lastly, the Heartleaf My Type Calming cream moisturizes and soothes the skin while locking everything in for the perfect finishing touch.
Overall, both the 6+1+1 line and the ay&me line definitely have their time and place. This could also vary depending on your current surrounding climate as well. For example, if the weather is very cold and dry, or you are feeling stressed and your skin is reacting, our ay&me line would be a great choice for calming the skin while strengthening the skin barrier. Likewise, if the weather is cold and dry but you are struggling with hyperpigmentation or acne, it would still be a good idea to incorporate our Dark Spot Correcting Glow Serum or our Spot The Difference Blemish Treatment to your routine along with our ay&me products.
We hope this blog has provided some insight into how both of our product lines can be incorporated into your routine and when you can use the products from both lines. If you have any more questions about the products or how/when they can be included in your routine, leave a comment down below or reach out to us via emails or DMs!