ay&me
No one knows my skin and my community better than me. That's why we want to come together to create something special for 'me' and 'my community'.
Skincare made for me by me.
Customer Reviews
Spot The Difference Blemish Treatment
Alya A - Malaysia
Hello Axis-Y, I just have a very positive experience with your product! I bought the Axis – Y Artichoke Intensive Skin Barrier Ampoule, Axis – Y Dark Spot Correcting Glow Serum, Axis – Y Purifying Treatment Toner and Axis – Y Spot The Different Blemish Treatment before, my second purchased and third. I was dealing to purging/breakout using this one expensive products and after reviewing the feedback of your products, I give it a try.
Spot The Difference Blemish Treatment
Mikayla K. - U.S.A.
I've been trying for years to manage my acne which had increasingly gotten worse in my mid-twenties. There were times that I didn't leave the house because I was so embarrassed of my skin and it affected almost every aspect of my life. Needless to say I have tried almost every acne line on the market and spent thousands of dollars trying to find a solution. I finally found Axis-Y on Tik-Tok of all places and decided that I had nothing to lose. I am telling EVERYONE I can about this brand. I would buy everything that they make. I currently use both of these products which I contribute to most of the work in getting rid of my acne.
New Skin Resolution Gel Mask
SK. - Canada
I am currently on my second bottle. This mask is so gentle yet very effective for my dry skin. Super skin saver!!!Great for acne prone skin.
Artichoke Intensive Skin Barrier Ampoule
Valerie D. - U.S.A.
I'm OBSESSED with this ampoule! It's definitely a KEEPER and I LOVE it! I use this ampoule every morning and night. I had severe acne on my checks and pimples here and there on my forehead and chin and within 1 week, I started seeing results. My acne began to clear and my dark spots and blemishes disappeared. Not only that, but it's lightweight and leaves my skin feeling super fresh and hydrated with a dewy glow. My skin looks and feels so much more nourished and healthier after using and adding this ampoule to my skin care routine. I wouldn't use anything else. Great product!
Spot The Difference Blemish Treatment
Jeffrey S. - U.S.A.
This product is amazing because of the multi purpose aspect of it! Small bottle, but it isn't an issue due to me only using AHA/BHA twice a week! The niacinamide helps soothe skin as well. Overall great product if you need something for stubborn acne, but that also doesn't irritate as much.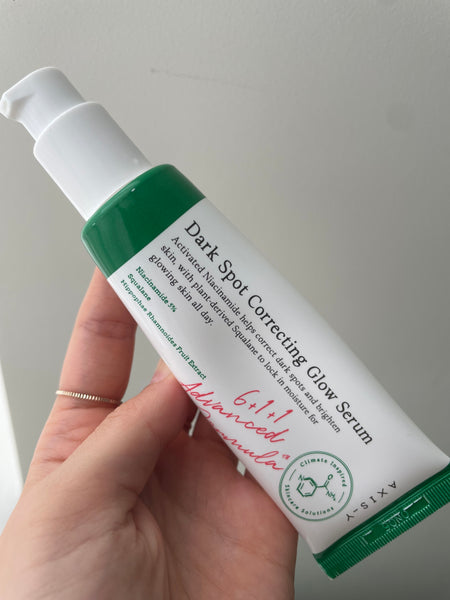 Dark Spot Correcting Glow Serum
Aswathi K. - Canada
I tried everything under the sun but couldn't get rid of my acne and scaring but the spot correcting glow serum definitely a game changer for me. Thank you Axis-y. I feel more confident now.