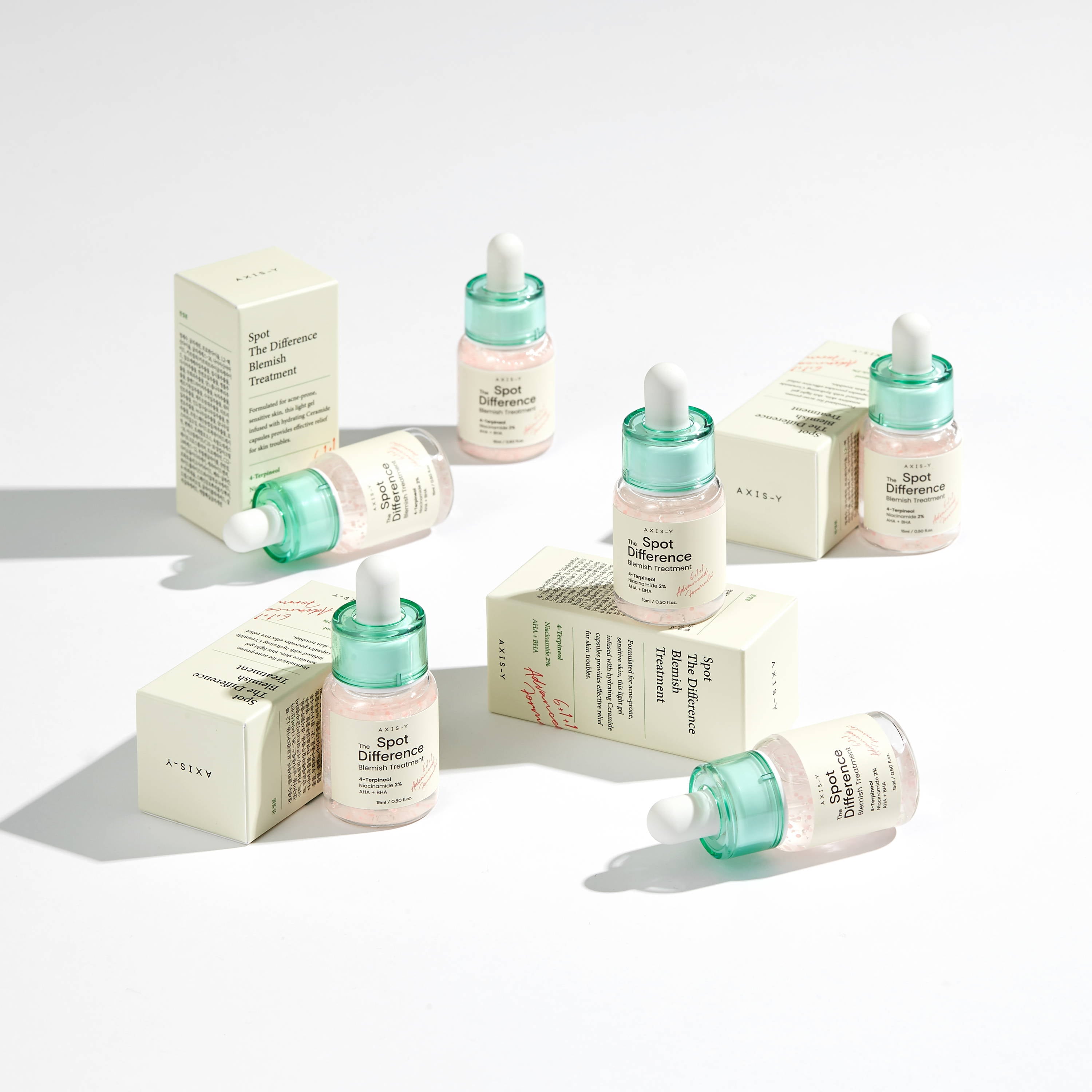 Can You Spot the Difference?
We all know what it's like to wake up with an unwelcome guest sitting there innocently right in the middle of our foreheads. The dreaded pimple. You immediately go and search for the strongest spot treatment you can find, hoping to dry out the spot as soon as possible before it can get any worse. Although in the flurry of panic this might seem like a good idea, this is certainly not the best choice for your skin. Using high concentration, harsh drying products can lead to dry, flaky and irritated skin that's even harder to cover up.
We were inspired by our community, who shared with us their struggles dealing with pesky blemishes that refused to clear up.
We wanted to create a spot treatment product that was gentle and hydrating, rather than harsh and drying.
We know that skin problems are often caused by daily life stressors as well as environmental stressors from our surrounding climate.
Being a climate-inspired brand, we immediately started the formulation process, testing countless versions until we reached our final Spot The Difference Blemish Treatment.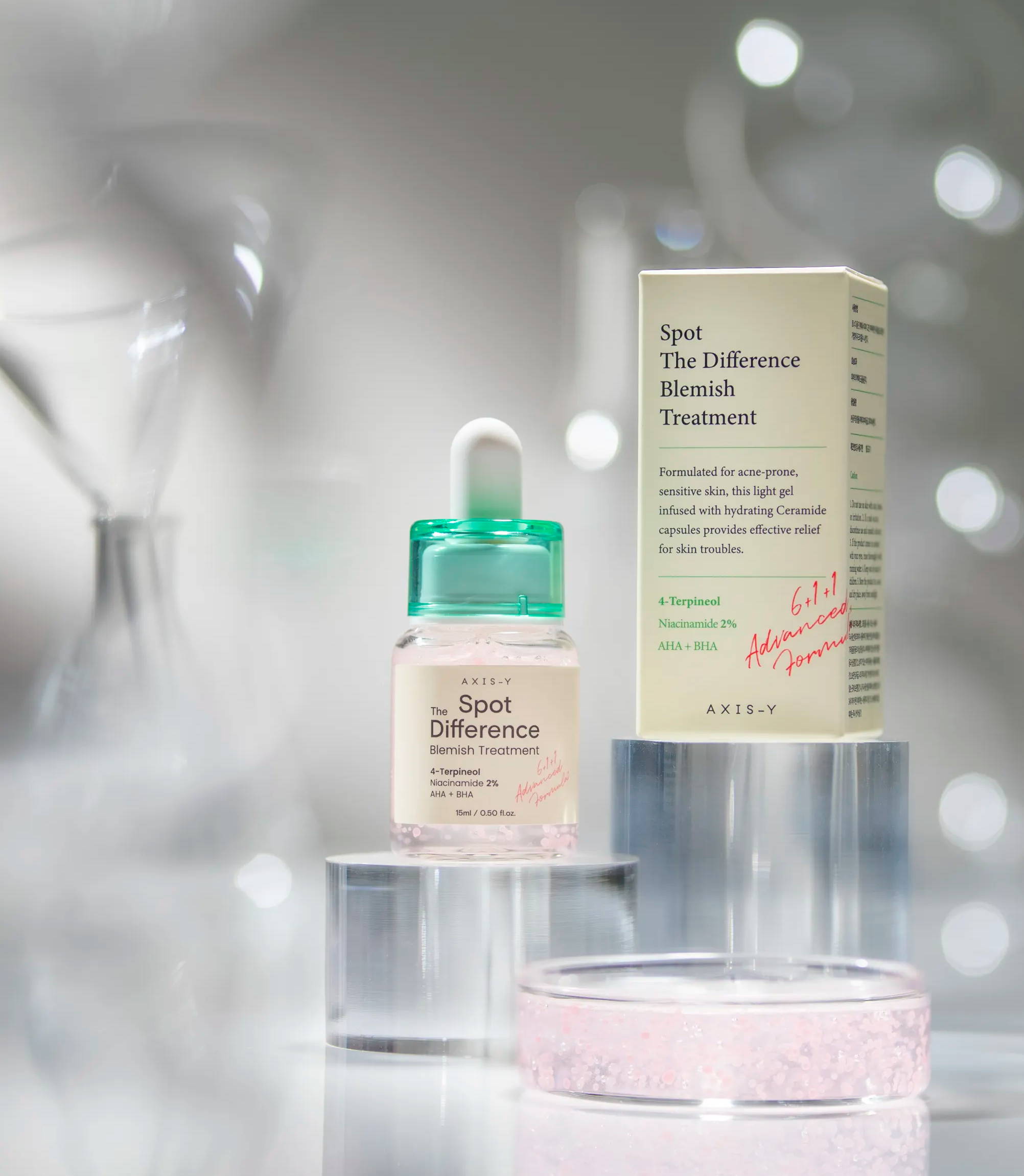 Our main goal was to develop a formula that featured many skin-loving elements and ingredients that help to reduce irritation, control oil production and soothe the skin. It was important to us to create something unique and different from existing spot-treatment products out there, taking the approach of nourishment and hydration of the blemishes, rather than drying out and stripping the delicate skin on your face.
---
Our superstar Spot The Difference Blemish Treatment is chock full of effective ingredients specially formulated for acne-prone skin, and is alcohol-free. So what makes our blemish treatment so effective? Let us break down our 6 base ingredients for you.
First we have Tea Tree Extract, which is not to be confused with Tea Tree Oil. Using tea tree oil for acne can actually cause irritation, particularly in delicate areas of the face and has been found to be quite drying. Tea tree extract, on the other hand, incorporates the key isomer found in Tea Tree Oil but is completely allergen free, making it a much more skin-friendly alternative. It is a key ingredient that helps soothe blemishes and breakouts.
Next up is Camphor Leaf Extract. Camphor is an organic compound which has anti-inflammatory and antibacterial properties. It has a skin brightening effect and its antioxidant properties help to improve the overall appearance of the skin.
Then we have Licorice Root. Licorice root extract also has antioxidant properties and helps to brighten the skin. It also has a soothing effect, calming any inflammation, irritation, and redness. Not only that, but it also helps the skin to retain Hyaluronic Acid, which we know is a crucial molecule in maintaining the skin's hydration.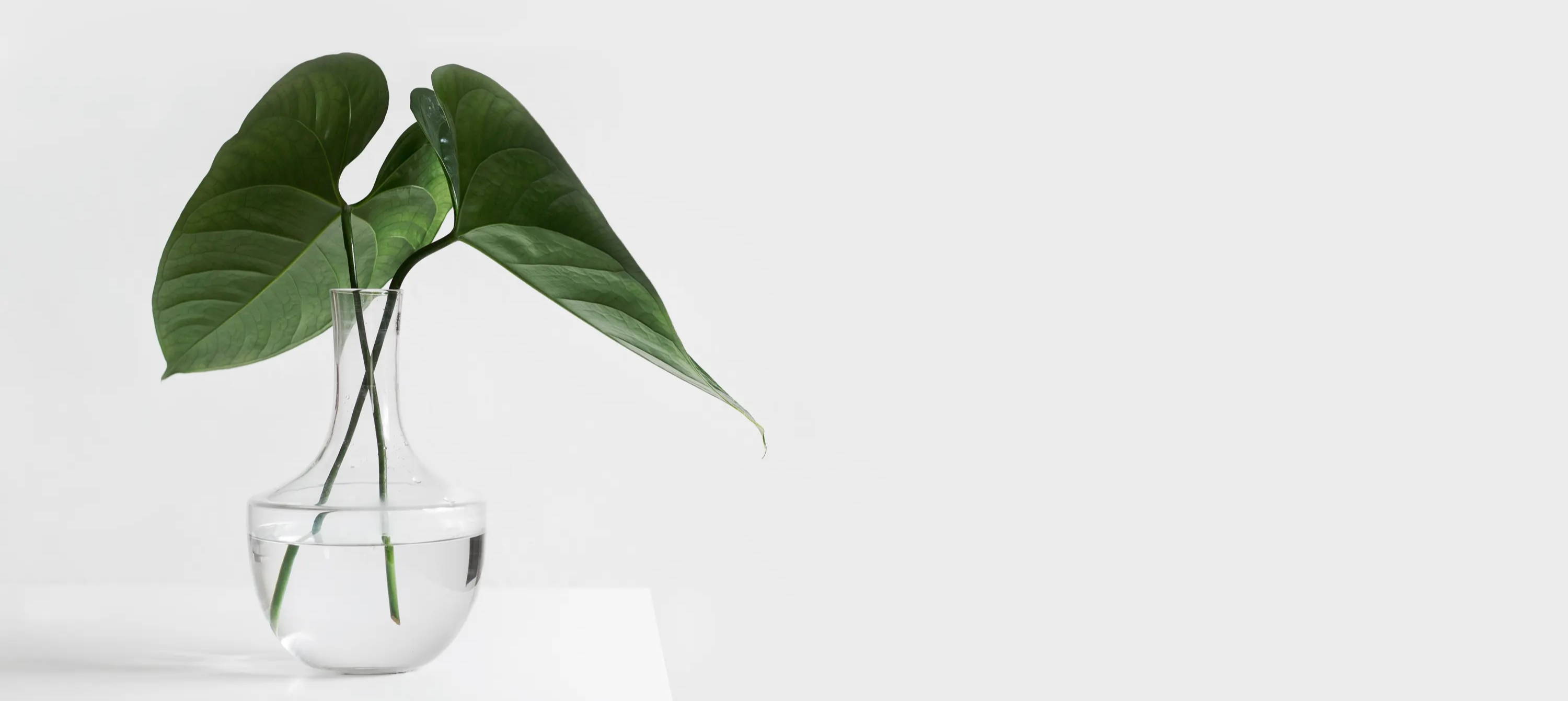 Next we have Green Tea Leaf extract. Green tea leaf extract is a powerful antioxidant which soothes the skin, helps with discoloration, repairs damage, and helps improve acne by reducing sebum production. Sebum is the oil that is naturally produced by your skin, and breakouts happen when there is an overproduction of sebum.
And then there's Mentha Aquatica, an organic water mint, which revitalizes and reinvigorates the skin, helping to soothe irritation while providing a refreshing sensation at the same time.

Finally we have Broadleaf Bamboo, scientifically known as Sasa Quelpaertensis. Broadleaf bamboo extract has anti-inflammatory properties and also helps to strengthen the skin's natural protective barrier while moisturizing the skin.
And let's not forget our core ingredient, which is 4-Terpinol. This is the main active ingredient that is found in tea tree extract, and contributes to the healing of blemishes. Another special mention for our ceramide capsules, which help to protect the skin from environmental factors. Protecting the skin's natural barrier is a very important part of keeping the skin healthy and clear of blemishes. Ceramides also contribute to smoother, firmer looking skin.
Full ingredients:
Water, Glycerin, Propanediol, 1,2-Hexanediol, Glycereth-26, Niacinamide, Caprylic/Capric Triglyceride, Aloe Barbadensis Leaf Extract, Althaea Rosea Flower Extract, Laminaria Japonica Extract, Eclipta Prostrata Leaf Extract, Centella Asiatica Extract, Ficus Carica (Fig) Fruit Extract, Ulmus Davidiana Root Extract, Amaranthus Caudatus Seed Extract, Camellia Sinensis Leaf Extract, Monarda Didyma Leaf Extract, Hydrangea Macrophylla Leaf Extract, Mentha Aquatica Extract, Sasa Quelpaertensis Extract, Melaleuca Alternifolia (Tea Tree) Leaf Extract, Melia Azadirachta Leaf Extract, Eclipta Prostrata Extract, Cinnamomum Camphora (Camphor) Leaf Extract, Cryptomeria Japonica Leaf Extract, Pinus Pinaster Bark/Bud Extract, Rosmarinus Officinalis (Rosemary) Leaf Oil, Hydrogenated Lecithin, Chamaecyparis Obtusa Water, Trehalose, Octyldodeceth-16, Acrylates/C10-30 Alkyl Acrylate Crosspolymer, Tromethamine, C12-14 Pareth-12, Butylene Glycol, Xanthan Gum, Disodium Edta, Ceramide Np, Fructooligosaccharides, Beta-Glucan, Hydrolyzed Hyaluronic Acid, 4-Terpineol, Glycyrrhiza Glabra (Licorice) Rhizome/Root, Moringa Oleifera Seed Oil, Glycolic Acid, Salicylic Acid, Ethylhexylglycerin
---
How to use our Blemish Treatment

As with any skincare routine, it is of course important to start off with cleansing and toning the skin before applying anything else.
Start your skincare routine as usual by gently washing your face with cleanser and prepping your skin with toner.
Our Spot The Difference Blemish Treatment step can be used with other treatments such as ampoules and serums.
Then using the dropper, apply an adequate amount of Spot The Difference Blemish Treatment onto the desired area.
Gently pat the area to let the product absorb, then continue with the rest of your skincare routine.

Our spot treatment can be used both AM and PM, both daily.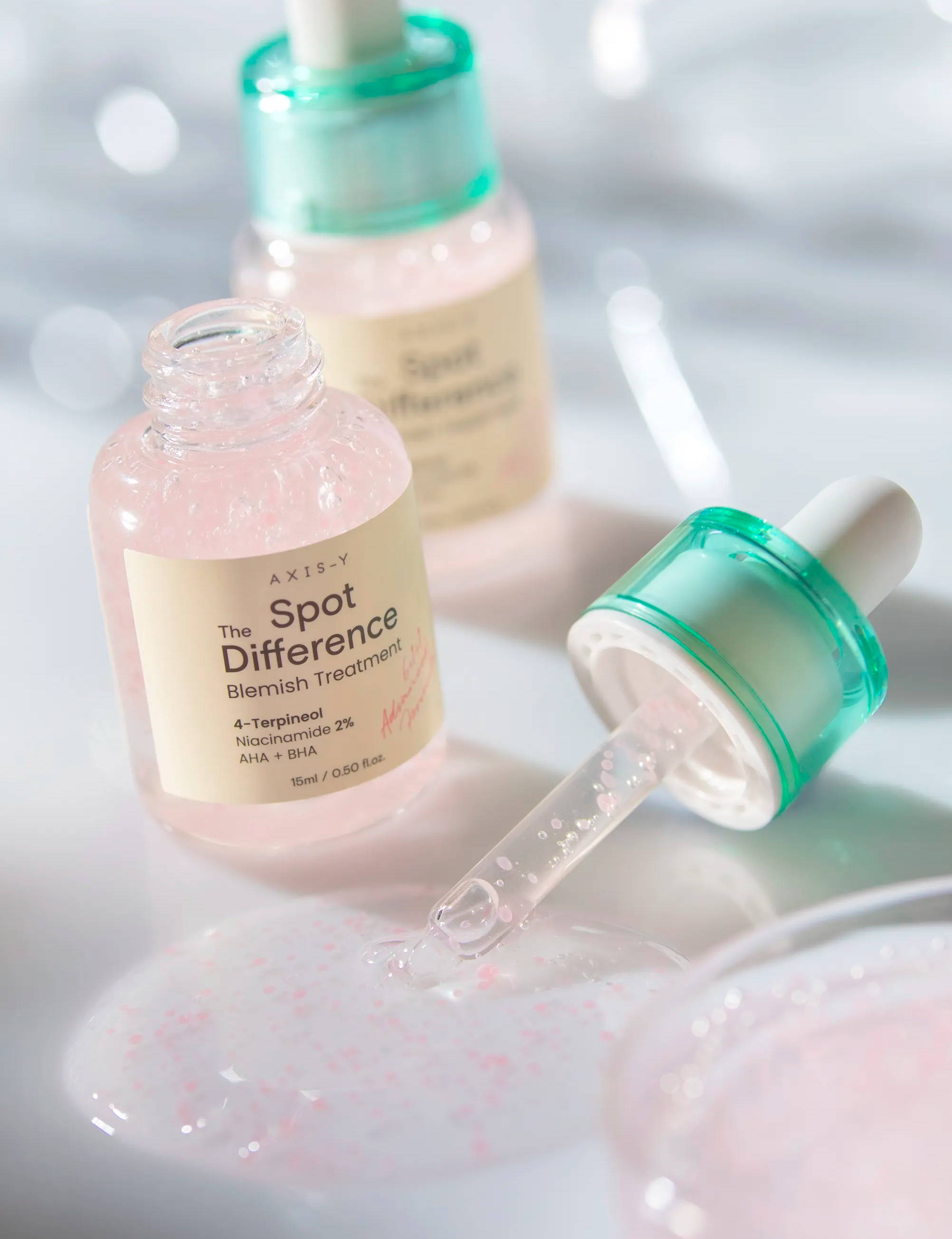 ---
Gabrielle T. ★★★★★
This is the best product I have tried yet. I have combination, sensitive, acne-prone skin. While I still get hormonal acne and acne from wearing a mask all day at work, this stuff makes it disappear in about 24 hours. It's much less harsh (and less expensive) than what I had been using before with much less of a result. I'm completely sold and about to start on my second bottle!
Ica ★★★★★
I saw this on TikTok and wanted to try it myself since I recently had bad breakouts and had some dark spots. My dark spots are almost nonexistent and my skin feels healthier than it has ever been!
Olivia J. ★★★★★
This has really helped improve my skin. I have really bad breakouts but my skin is sensitive so many treatments are too harsh. This treats spots in a way that doesn't hurt my skin, and it does it faster than any other spot treatment I've tried. I would recommend to anyone to give this a try!
---