Dark Spot Correcting Glow Serum
The first couple steps in a skincare routine focus on pore cleansing, bacteria killing, and reducing inflammation. But some still struggle with post-acne hyperpigmentation or dark spots due to unavoidable sun exposure. These factors contribute to an increase in melanin production in our skin.
If acne scars are already present on the skin or you have been exposed to too much sun, your skin is already at risk of hyperpigmentation.
Weak sun protection or using the wrong products can result in skin damage. We wanted to develop a special product to help with hyperpigmentation and discoloration, which is how our Dark Spot Correcting Glow Serum was born.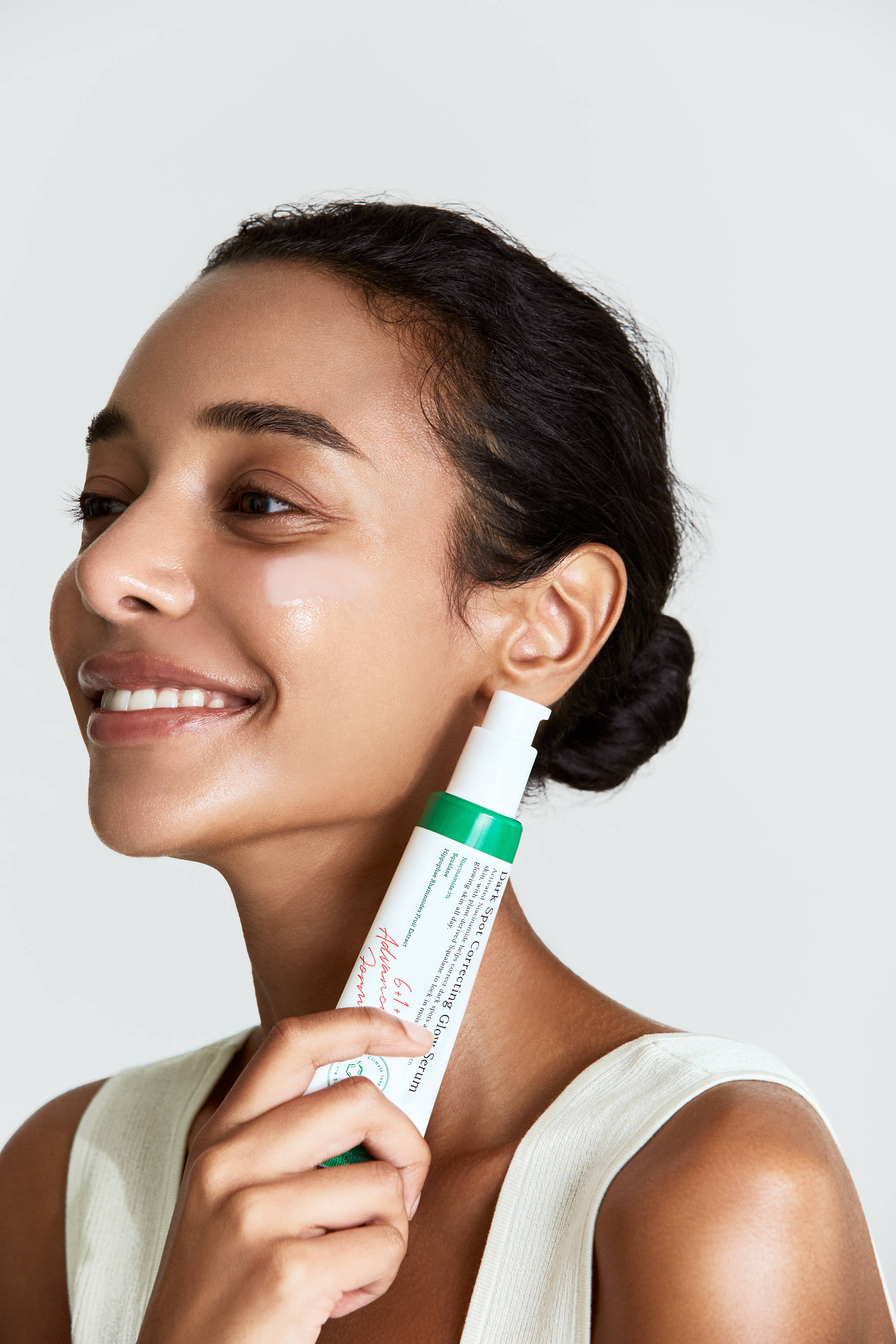 ---
Powerful Brightening Agent: Niacinamide 5%
Treats moderate acne while reducing inflammation from acne and rosacea

Improves pigmentation concerns including dark spots and uneven skin tones
| | |
| --- | --- |
| Ingredient | Benefit |
| | Fights skin aging by protecting against free radicals |
| | Brightens sun damaged skin and dark under eye circles |
| | Brightens skin and reduces spots |
| | Smooths and brightens the skin |
| | Stimulates cell proliferation and encourages new tissue growth |
| | Speeds healing of blemishes and acne scars |
---
Effective Technology: Niacinamide + Rice Bran
Whitening ingredients (niacinamide and rice bran) are combined together in an appropriate ratio to create an effective tone up function.
---
What inspired the creation of our Dark Spot Correcting Glow Serum?

When developing our serum, we wanted a product that would give our community and their skin the confidence they need to glow from the inside out.
Our main goal was to create a serum that would give us a boost of happiness when seeing our bare skin or when seeing the visible improvement of our skin after every application.
We added ingredients for brightening and fading dark spots, and soothing rough and irritated skin to create the ultimate serum that gives you a visible glow, both inside and out.
With post-acne hyperpigmentation or dark spots from sun exposure, one can use a brightening and soothing product with the addition of a good sunscreen like our Complete No-Stress Physical Sunscreen to not only lighten up the spots, but also prevent skin damage.
That is why we decided to use 5% Niacinamide, also known as vitamin B3, which works with the natural substances of the skin to help improve uneven skin tone, dullness, and weakened skin barrier.  
---
Skin Benefits of Our Dark Spot Correcting Glow Serum
A Niacinamide based serum that corrects dark spots and improves uneven skin tone. With the help of plant-derived Squalane, this serum retains moisture to keep your skin glowing and healthy wherever you go.
Here is a brief summary of 6 skin benefits that you can get from Dark Spot Correcting Glow Serum: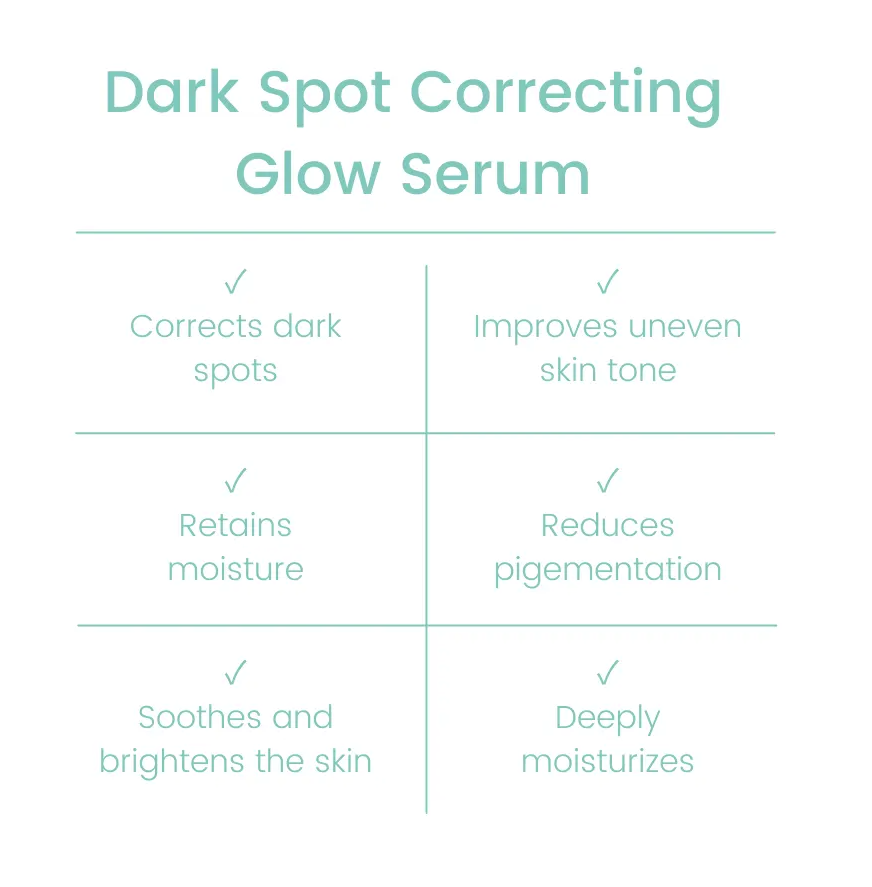 ---
Here is some of the love we've received for our serum, the results speak for themselves!
Gabrielle T. ★★★★★
This was the first Axis-Y product I tried and I was amazed at the difference it made in my skin. I have sensitive, acne-prone skin and everything new I try makes me break out like crazy. But not this. My skin's texture is so much more smooth after using this product. I'll be buying this again.
Marisa G ★★★★★
I loved this product!!! You can definitely see a difference in my skin once I started using it. Game changer!

Angel K ★★★★★
This stuff works really good I had some hyperpigmentation near my lips it's almost fully faded! Make sure you give it at least 2 months to see improvement I love this and recommend this to anybody who has hormonal acne and oily skin!
---
Suitable for all skin types

Good for people who have post-acne hyperpigmentation

Good for people who suffer from any type of hyperpigmentation
---
Apply a small amount to entire face or areas where treatment is needed

Gently pat until fully absorbed

For the best results, use in both morning and night skincare routines. At night it can be used as a sleeping mask. However, we always recommend finishing your skincare routine with a light moisturizer.

 
---
Water, Glycerin, Niacinamide, Sodium Hyaluronate, Propanediol, Erythritol, Butylene Glycol, Squalane, Oryza Sativa (Rice) Bran Extract, Calendula Officinalis Flower Extract, Carica Papaya (Papaya) Fruit Extract, Hippophae Rhamnoides Fruit Extract, Malpighia Emarginata(Acerola)Fruit Extract, Polyglyceryl-10 Laurate, Chlorphenesin, Arginine, Ethylhexylglycerin, Carbomer, Glutathione, 1,2-Hexanediol, Hydroxypropyl Cyclodextrin, Disodium EDTA, Hydroxyethylcellulose, Allantoin, Rosmarinus Officinalis (Rosemary) Leaf Oil