Now that summer is well and truly underway, we are really feeling the effects of the warmer climate. More time spent outdoors, and more time in the hot air means the skin is more frequently exposed to the heat, leading to a higher chance of skin irritation and redness. If you have already read about our recently released PHA Resurfacing Glow Peel, you will know about how the summer climate inspired us to develop a new product dedicated to the warmer weather.
Well we wanted to take that another step further; and what better way to cool down the skin than with a refreshing skin essence? Our next product idea came naturally, leading from one skincare step to the next. Following the launch of the PHA Resurfacing Glow Peel is our brand new product launch, the Vita Frost Chilling Essence.
The essence comes out as a translucent, unscented gel, with small scattered white capsules which resemble frost or slush. Quite fitting for a chiling essence, we have to admit! These little capsules are formed during the formulation process through "self encapsulation technology" and are formed from Beta-Sitosterol, which is a phytosterol derived from plants that promotes the regeneration of skin cells and improves skin barrier function.
Once you begin to spread the snow-like gel over your skin the capsules burst into the gel and the texture of the gel transforms into a cooling, watery solution, with an "airy water texture". You can immediately feel the relaxing cooling sensation as the essence melts into your skin. It helps not only to cool down the skin but also to soothe red, irritated skin and provide antioxidants to nourish the skin. This refreshing essence sets your skin up perfectly for a warm summer's day. We wanted a product that would help to soothe irritated skin which tends to appear more in the hot summertime, while simultaneously lowering the temperature of the skin to help with inflammation and just as importantly, provide a feeling of relaxation and refreshment. We believe we've achieved our goal with the Vita Frost Chilling Essence.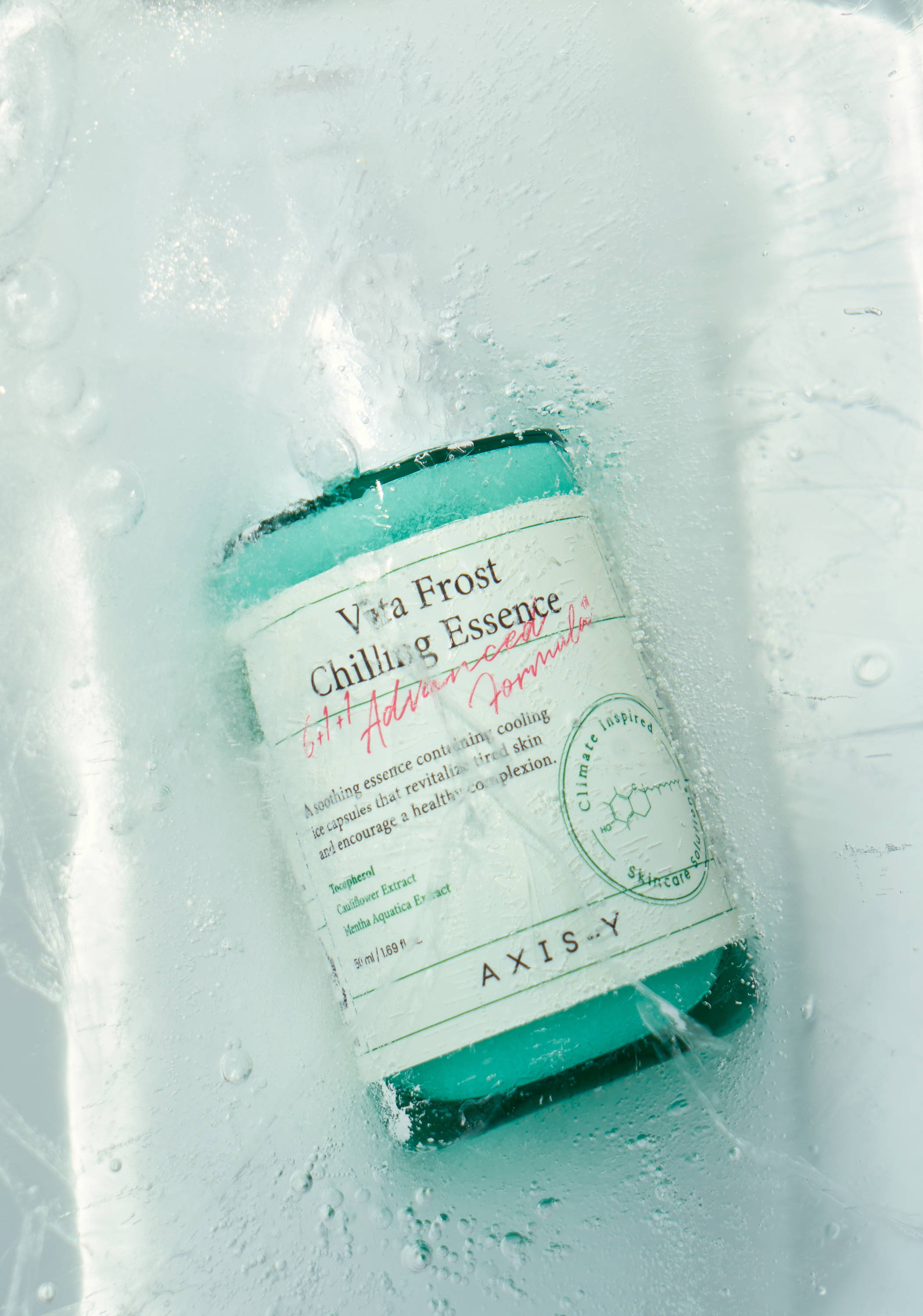 Another addition to our 6+1+1 line, this chiling essence also follows the basis of the formula, featuring 6 nutrient rich base ingredients, 1 functional key ingredient, and 1 effective technology.

Key Ingredient
The key ingredient that is featured in this essence is Vitamin E. Also known as Tocopherol, Vitamin E is a well known antioxidant in skincare, meaning it fights against the effects of free radicals, protecting the skin from oxidative damage and promoting skin regeneration. Vitamin E is unique from other antioxidants because it also has hydrating properties, working not only as a humectant, to attract water, but also as an emollient, trapping the moisture within the skin. All of these benefits work to strengthen the skin's natural barrier and in turn contribute to healthy and happy skin.
Effective Technology
The effective technology applied in this is COOL-H, a patented technology which consists of a combination of two different natural plant extracts (Artemisia gmelinii & Veronicastrum sibricum) which have been scientifically proven to have a cooling and soothing effect on the skin. These extracts have been used throughout history in Korea for their cooling properties. These natural cooling extracts add a gentle and soothing touch, creating an added "chilling" effect.
Full Ingredients
Water, Glycerin, C18-21 Alkane, Methylpropanediol, Hydrogenated Vegetable Oil, Cucumis Sativus (Cucumber) Fruit Extract, Brassica Oleracea Botrytis (Cauliflower) Extract, Mentha Aquatica Extract, Rosmarinus Officinalis (Rosemary) Leaf Extract, Veronicastrum Sibiricum Extract, Artemisia Gmelinii Extract, Eucalyptus Globulus Leaf Extract, Bambusa Vulgaris Extract, Sodium Hyaluronate, Betaine, Beta-Sitosterol, Carbomer, Tromethamine, Amodimethicone, Tocopherol, Butylene Glycol, 1,2-Hexanediol, Phytosterols, Hydroxyacetophenone, Ethylhexylglicerin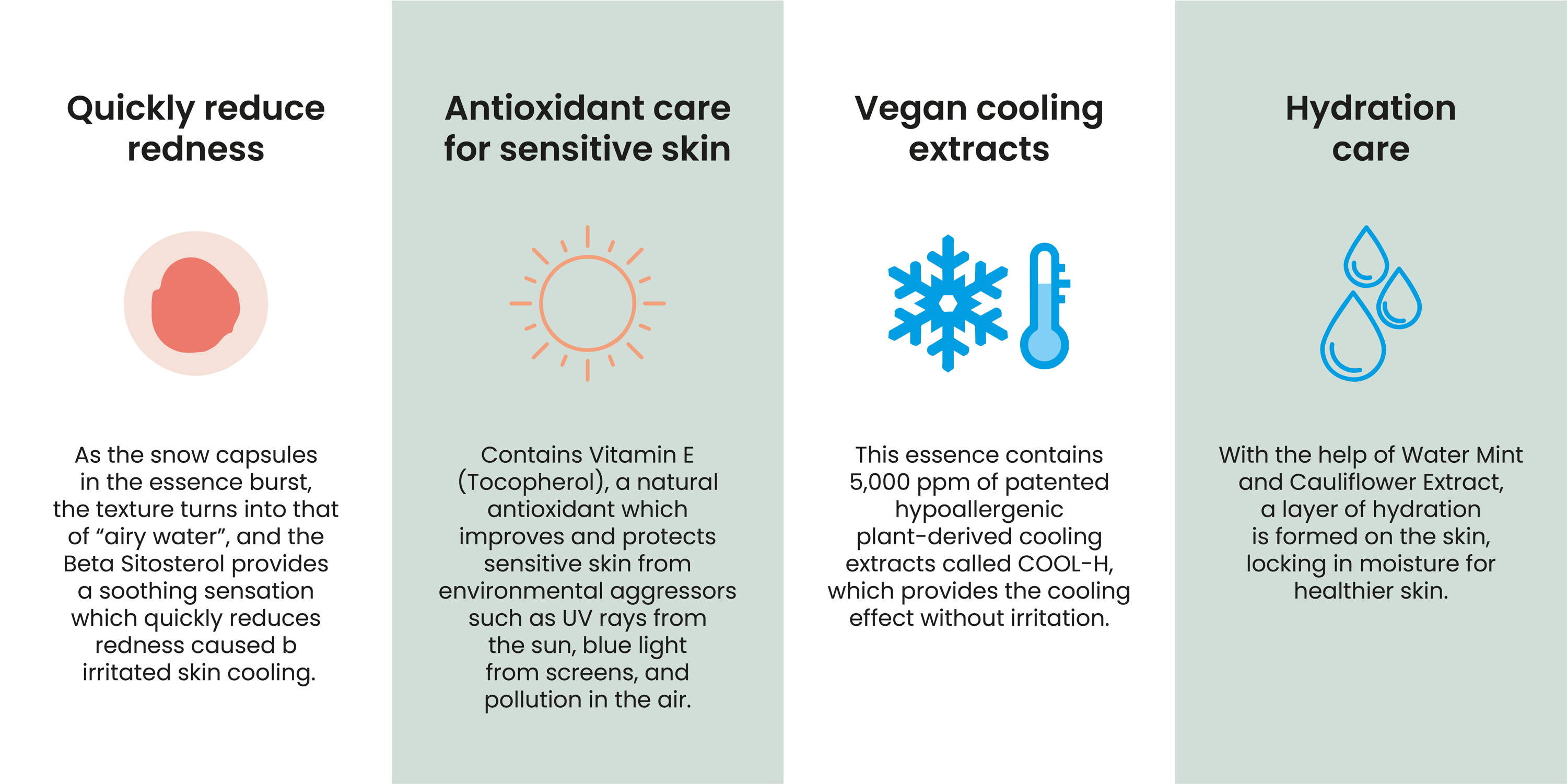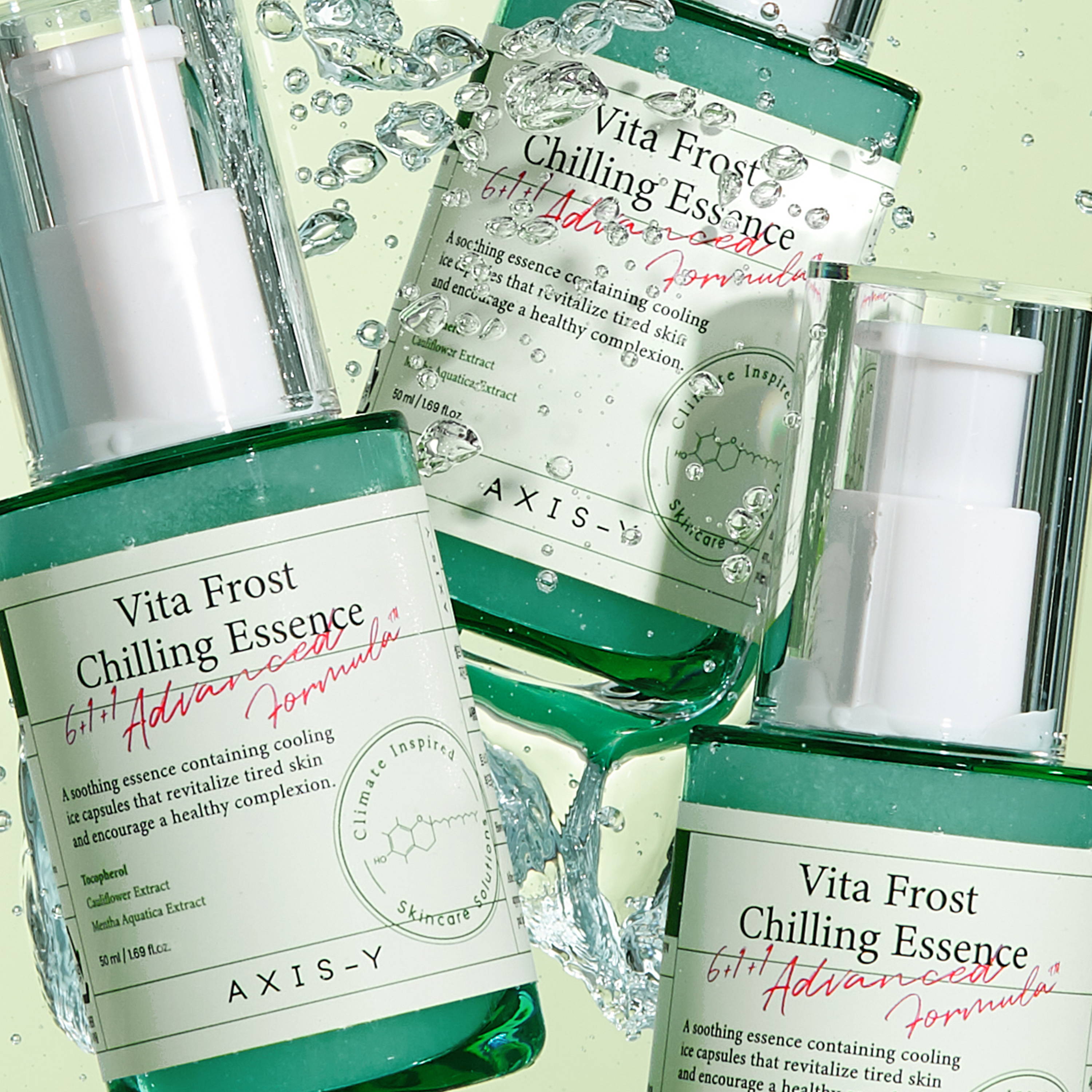 How to use the Vita Frost Chilling Essence
Use our Vita Frost Chilling Essence after using cleanser and toner, or after using cleanser, our PHA Resurfacing Glow Peel, and toner.

 

Dispense an appropriate amount into your hand and gently spread over your entire face, avoiding the direct eye and mouth area.

 

Continue with the rest of your skincare routine once the essence has sufficiently absorbed.
We can't wait for you to try our ideal summer essence. Pair it together with our PHA Resurfacing Glow Peel for an added cooling touch with antioxidant benefits or simply add it to your skincare routine when your skin is feeling the effects of summer and could use an extra touch of refreshing and nourishing hydration. Formulated especially with your skin in mind.