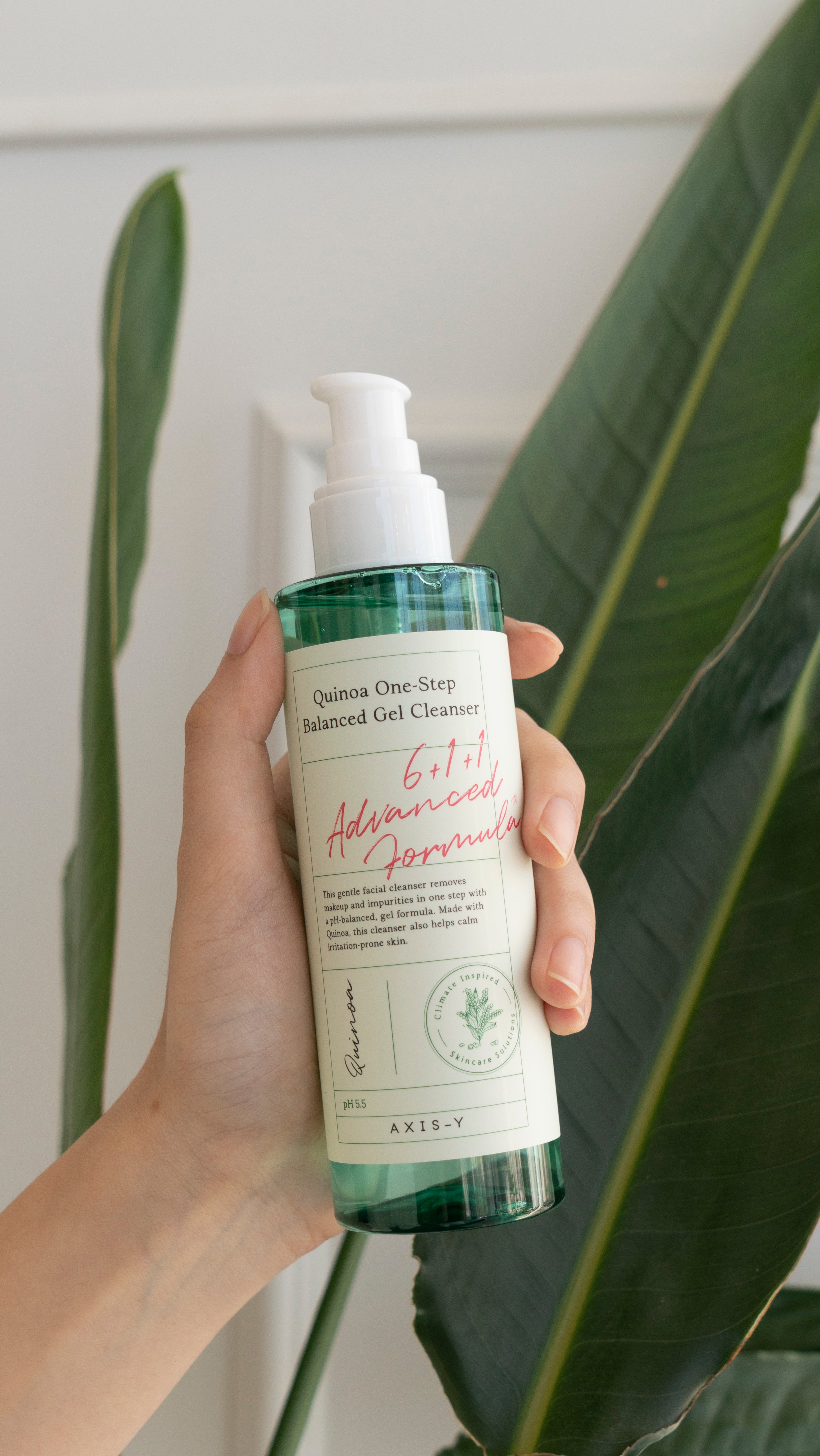 Do you know what the most important part of your skincare is? (Hint: without this you can not proceed with the rest of your routine!)
If you guessed the 1st step—cleansing, then you're correct. And what plays the most crucial part in a good and loving cleanser? Its foundation—the ingredients.
We have already mentioned this before in a previous blog, but to clarify once again, a cleanser without cleansing agents is not a cleanser. For our Quinoa One-Step Balanced Gel Cleanser, we use naturally occurring surfactants, Decyl Glucoside & Sodium Cocoyl Glutamate, which is derived from cornstarch and coconut oil, making it not only vegan but also skin-loving. Moreover, we made sure to include not only yummy superfoods, but also 6 essential, nature-derived ingredients and revolutionary skin technology.
| | |
| --- | --- |
| Ingredient | Benefit |
| | Boosts skin's natural healing process to prevent acne scars |
| | Increases benzoic acid levels that are used to treat skin damage from UV rays |
| | Flushes out toxins that create blemishes |
| | Speeds healing of blemishes and acne scars in tropical climates |
| | Protects skin from oxidative stress and UV damage using vitamin E |
| | Clears bacteria and inflammation using beta caryophyllene |
And let's not forget our star ingredient, Quinoa, which supports the synthesis of collagen and elastin for supple, smooth skin
And our effective technology, Herbal Complex Technology: A mix of Green Tea, Holy Basil, and Tea Tree herbs that leaves the skin moisturized and supple.
---
What inspired the creation of our Quinoa One-Step Balanced Gel Cleanser?

The first step of a skincare routine starts with the removal of makeup, dirt, excess oil, etc. Since this step requires both a makeup remover and a foam cleanser, we decided to come up with a formula that will replace these two products, without stripping the natural moisture and oils off the skin. Our gel cleanser not only has a suitable pH of 5.5 for your skin, but it also removes makeup and other impurities in one cleansing step.
There are many reasons for different skin concerns but most of them are the result of external causes like pollution, excess makeup, and even UV radiation.
That is why the first step of your skincare is the most important.



Since acne-prone skin can be sensitive, anything can trigger an irritation. For example, UVA lights can react with chemicals on your skin that can stimulate acne or simply increase the sensitivity of the skin. Excess sebum production from the skin being exposed to warmer temperatures or even from wearing a face mask can create the perfect environment for acne causing bacteria to spread.
---
Skin Benefits of Quinoa One-Step Balanced Gel Cleanser
Our loving cleanser clears makeup and pores in one step while delivering a gentle and hydrating wash at your skin's natural pH. The combination of quinoa and healthy nutrients remove environmental toxins to reveal healthy, lively skin.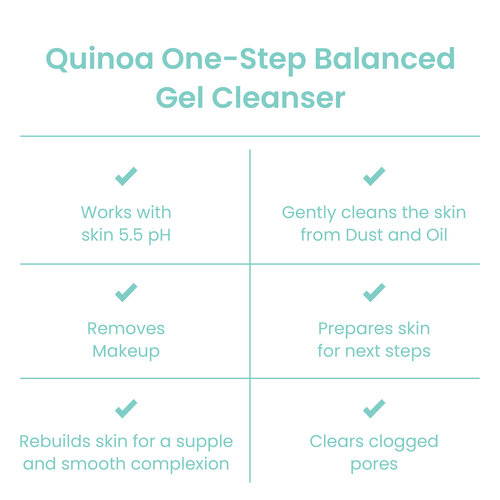 ---
hafsah j. ✰✰✰✰✰
I LOVE this cleanser. It really does remove all the dirt and dead skin cells from my face without being too harsh on my skin. It also left my face very hydrating afterwards which I love. 100% satisfied with this cleanser.
Sierra ✰✰✰✰✰
I had a small bottle to try and got like a weeks worth or more out of it and loved how it made my skin feel. Got the full size and just started using jr but it's just the same. I use it in the evenings and my skin feels amazing getting out the shower!!
M.B. ✰✰✰✰✰
I waited some time to use this product before writing a review. I have oily combination skin and I have fallen in love with this cleanser. I use it in the mornings and after I do an oil-cleanse. It's very gentle, it foams up nicely, and it's non-stripping on the skin. There are no strong smells. It leaves my skin feeling clean and soft. I highly recommend this gel cleanser.
---
Suitable for all skin types

Good for sensitive and acne prone skin
Apply 2-3 pumps onto wet face

Massage with circular motions for 2-3 min

Wash off with lukewarm water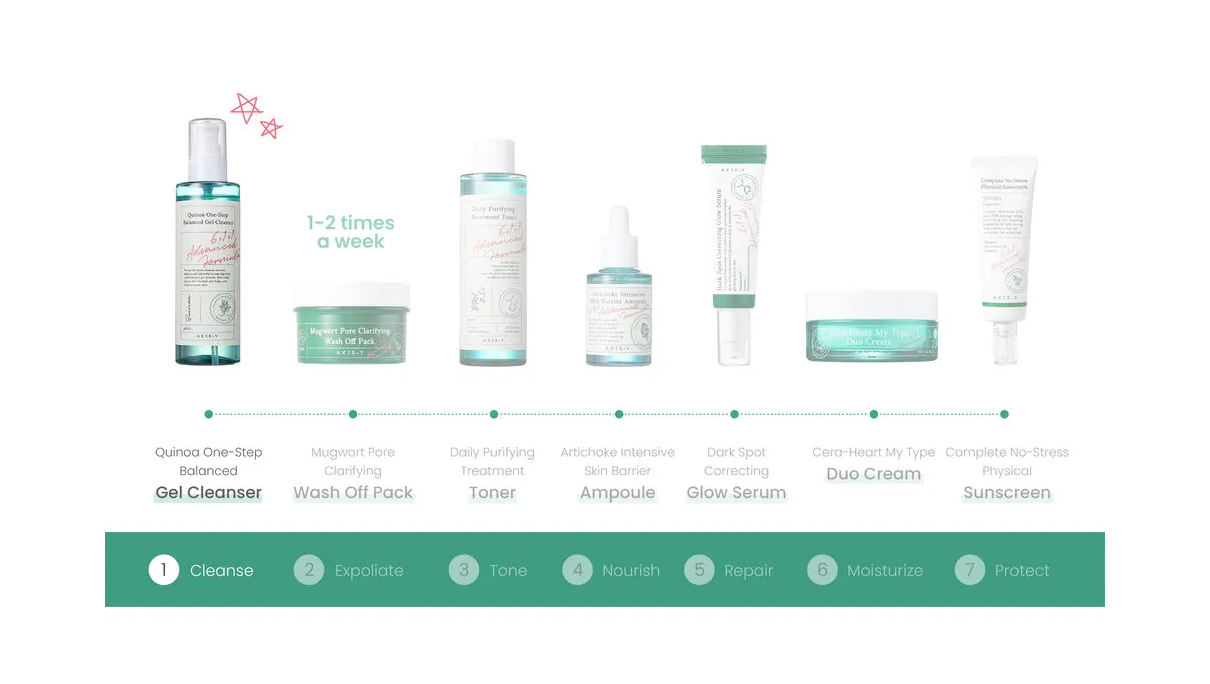 Water, Decyl Glucoside, Sodium Cocoyl Glutamate, Chenopodium Quinoa Seed Extract, Glycerin, Sodium Lauroyl Glutamate, Betaine, Glycine Soja (Soybean Oil),Melaleuca Alternifolia (Tea Tree) Extract, Chlorphenesin, Hydroxyacetophenone, Ethylhexylglycerin, Camellia Sinensis Leaf Extract, Humulus Lupulus (Hops) Extract, Ocimum Tenuiflorum Extract, Centella Asiatica Extract, Calendula Officinalis Flower Extract, Prunus Amygdalus Dulcis (Sweet Almond) Fruit Extract, Citric Acid, Geranium Maculatum Oil, Allantoin