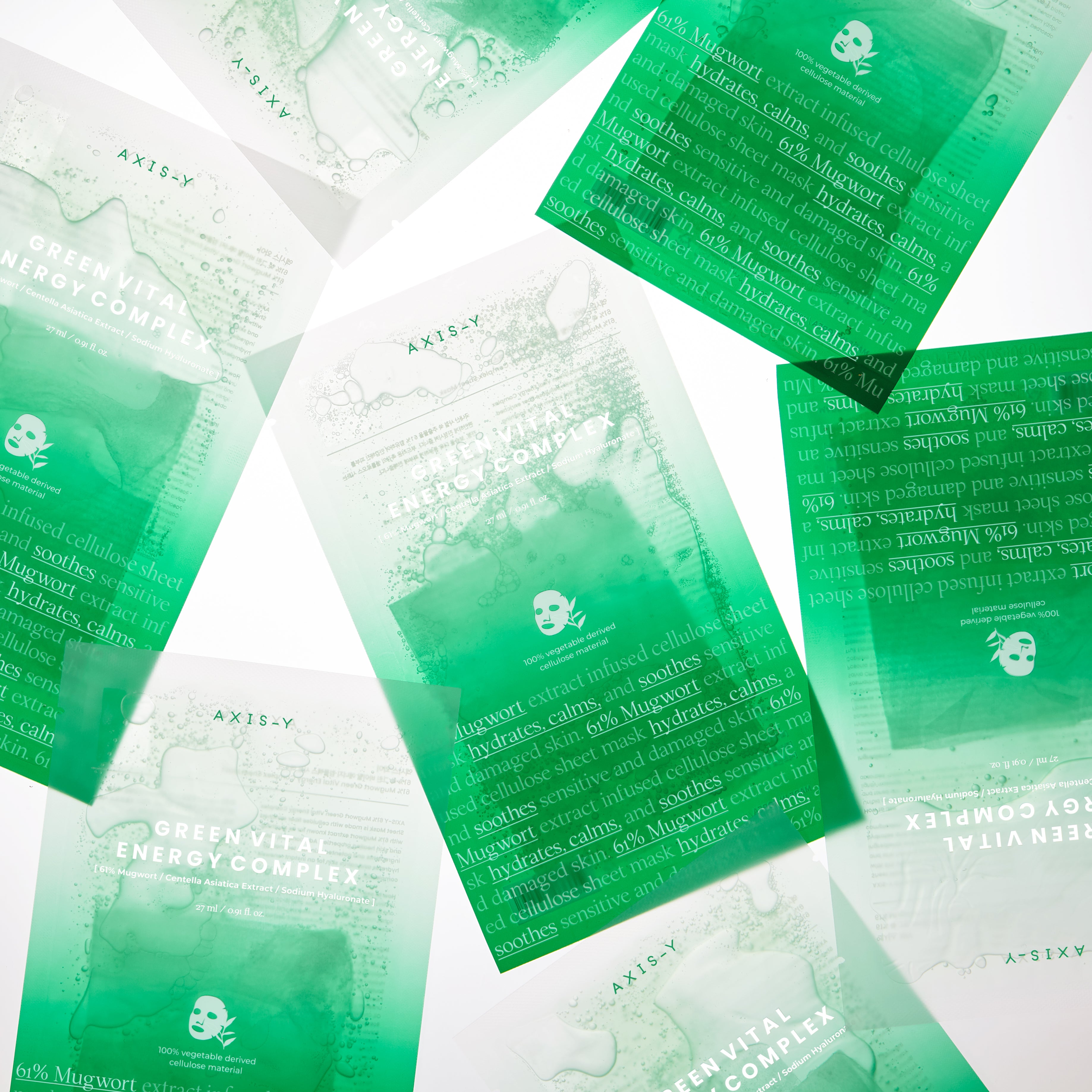 Recently in the world of skincare, sheet masks have grown exponentially in popularity. Sheet masks can be used for many different skin issues and come in many different forms. There are sheet masks that can be used as part of a daily skincare routine, and sheet masks that are best used a couple times a week. So what exactly makes these unique form of skincare so special?
Each sheet mask is fiber-infused with lots of goodies for your skin such as actives, extracts, hydrating ingredients, and highly concentrated serums. The sheet itself plays a big part as a protective shield which not only holds onto the serum but also delivers all those potent ingredients into the skin and prevent them from evaporating into the air.
If you take a look at the ingredient list of any sheet mask, you will see that the majority of the ingredients are extracts that contain lots of vitamins and actives. The reason these work so well is because extracts are in a liquified state when they are found in other products and applied topically, they evaporate quickly before sinking into your skin. By applying sheet masks for an adequate amount of time, the skin is able to effectively absorb the rich, concentrated serum into the deeper layers of the skin.
In this blog post we will introduce the exciting new addition to our 611 line and at the end, we will share some tips on how and why to use a sheet mask.
---
As we explained above, sheet masks are packed with nourishing extracts and hydrating ingredients. At AXIS-Y, we decided to formulate a refreshing, green smoothie-like combination: 61% Mugwort Green Vital Energy Complex Sheet Mask.

Yes, it has 61% of Mugwort extract in addition to 15 other energizing extracts. We already have a dedicated

blog post on the benefits of Mugwort

,

so make sure to check it out if you are curious as to why AXIS-Y loves this super-star ingredient.
Let's take a look at the 15 extracts that are making up this smoothie energy complex:
Artemisia Capillaris Extract, Centella Asiatica Extract, Melia Azadirachta Leaf Extract, Polygonum Cuspidatum Root Extract, Scutellaria Baicalensis Root Extract, Melia Azadirachta Flower Extract, Camellia Sinensis Leaf Extract, Glycyrrhiza Uralensis (Licorice) Root Extract, Eucalyptus Globulus Leaf Oil, Chamomilla Recutita (Matricaria) Flower Extract, Rosmarinus Officinalis (Rosemary) Leaf Extract, Paeonia Suffruticosa Root Extract, Brassica Oleracea Capitata (Cabbage) Leaf Extract, Hibiscus Esculentus Fruit Extract, Spinacia Oleracea (Spinach) Leaf Extract, Brassica Oleracea Italica (Broccoli) Extract, Artemisia Princeps Leaf Water
We would love to talk about each and every ingredient and its benefits, but that could take a while, so we will highlight a few key players. First of all, if you take a look at the ingredients list above, you might notice an interesting ingredient we want to highlight:
Sodium Hyaluronate
Sodium Hyaluronic Acid derivative "sodium salt" has a lower molecular weight, penetrating deeper into the skin while providing similar benefits as Hyaluronic Acid.
That is why this combination is the best for the skin to absorb with the help of a fiber that provides the absorption barrier. Speaking of fiber, the
61% Mugwort Green Vital Energy Complex Sheet Mask
's fiber is made of 100% vegetable-derived material (cellulose). It contains no binder or silicone. It has good adhesion and is soft to the touch, so you can use it comfortably and with less pressure on your skin.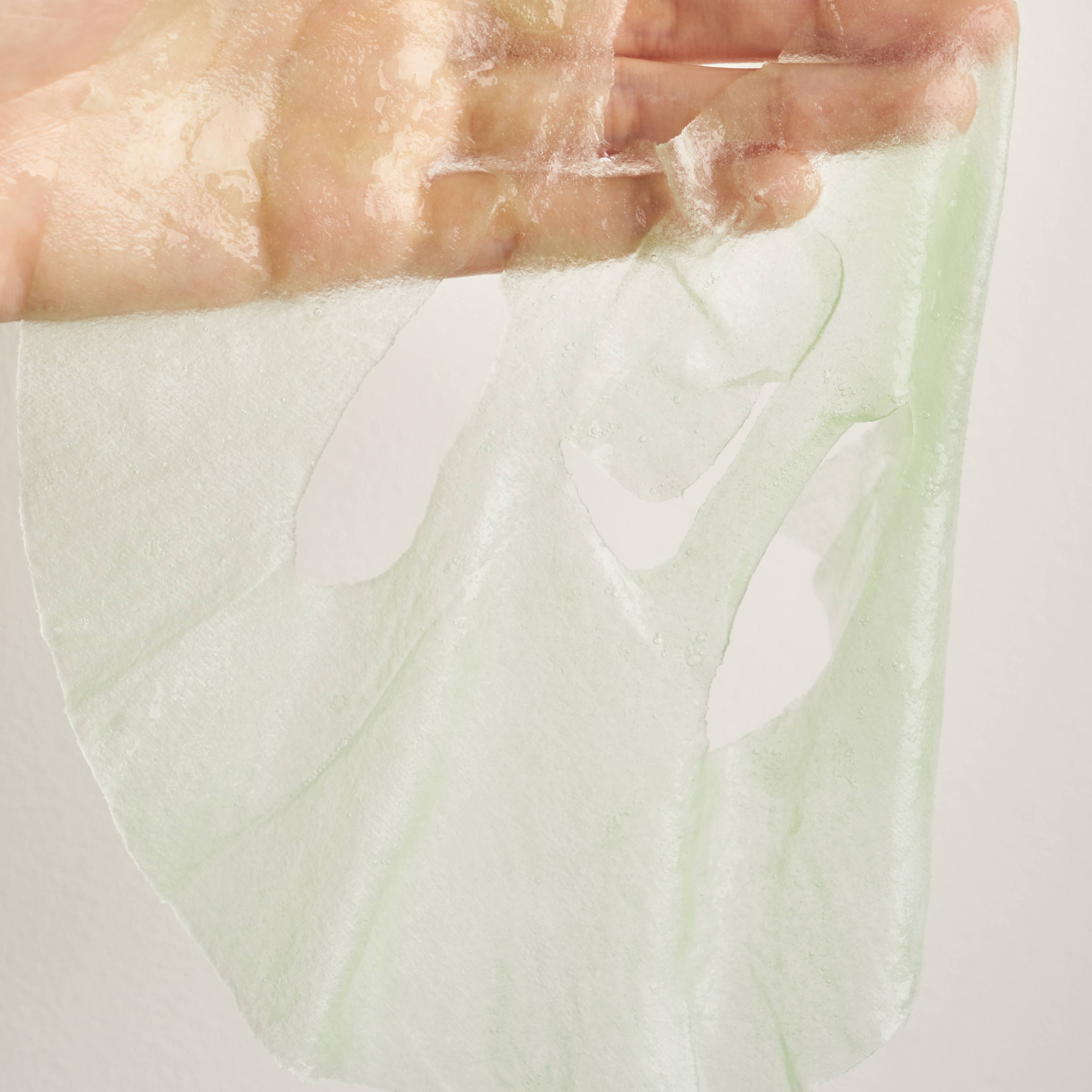 Why does it appear green?
Rest assured, there is no artificial coloring involved at all. Green is the natural color of the extracts like Cabbage Leaf Extract, Spinach Leaf Extract, Broccoli Extract along with a large amount of artemisia capillaris extract (61% to be exact). These natural superfood ingredients give the mask's fiber its green hue.
---
| | |
| --- | --- |
| Ingredient | Benefit |
| | Boosts skin healing and soothes the skin |
| | Helps lower the temperature of skin to soothe inflammation |
| | Contains large amounts of minerals to help the skin absorb nutrients |
| | Provides antioxidant benefits and aids skin regeneration |
| | Moisturizes skin, relieves inflammation, and strengthens skin barrier |
| | Rich in Vitamin C and E which helps to lighten hyperpigmentation |
---
Artemisia Capillaris Extract
Protects the skin from harmful oxygen radicals, revitalizes it from past damage, soothes and cleanses the skin.
---
Special Patent Technology
"MultiEX BSASM"


I

ncludes Rosemary leaf extract, Matricaria flower extract, Centella Asiatica Extract, Glycyrrhiza Uralensis (Licorice) Root Extract, Camellia Sinensis Leaf Extract, Polygonum Cuspidatum Root Extract, Scutellaria Baicalensis Root Extract

Heals skin irritation (natural ingredients for sensitive skin)

7 plant extracts (anti-inflammatory, immunosuppressive)

Based on the traditional Korean medicine manufacturing method, seven plants were selected and the patented method made the composite extract safe and healthy.
---
What Inspired the Creation of 61% Mugwort Green Vital Energy Complex Sheet Mask?
Just like when we developed our "

New Skin Resolution Gel Mask

", we once again wanted to hear your feedback, your skin concerns, and learn about the next thing you were looking for.
We conducted research through a survey on our website with more than 200 participants. We asked many varied questions, and one of them was about what other products you envision AXIS-Y developing. A majority of the participants wanted to see a sheet mask and a line of products with Mugwort from us. As a brand that always strives to listen to the voice of our community, we decided to develop a special sheet mask for you.
We wanted to focus our attention on the quality of the product as well as environmental sustainability. This allowed us to develop an amazing, rich formula featuring 15 extracts and 61% Mugwort coming together in the form of a plant-based cellulose fiber sheet soaked in serum.
Skin benefits of 61% Mugwort Green Vital Energy Complex Sheet Mask
Our mask packs are best suited for home care to use with ease when your skin needs some extra TLC. We made sure to formulate the perfect viscosity for the serum to allow it to absorb into the skin perfectly. Each mask pack is filled with a generous 27mL of the serum, to give you maximum results in one use. This formula minimizes inconvenience and promotes a firm, but moisturized feeling after use. We recommend that for those with oily skin, you omit additional skincare steps when using this mask. If you have dry skin, you can use one or two additional skincare products if extra hydration is necessary.
The sheet mask's cooling and soothing extracts help soothe irritated skin and keep the skin moisturized until the next morning if used at night or provides lasting hydration throughout the day if used in the morning.
---
Suitable for all skin types

 

Good for sensitive, inflamed, and acne-prone skin
Before opening the mask, flatten the pouch 3-5 times to evenly spread the serum throughout the sheet.
Cleanse and tone your skin.
Remove the mask from its packaging and fit it onto your face.
Remove the mask and pat the excess essence onto your neck, hands, shoulders, etc.
Continue with the rest of your skincare routine if necessary or use as final step
Celeste H ✰✰✰✰✰
this is literally the best mask ever. leaves my skin looking amazing after and the next day. love this product will be buying again !
Jennifer M ✰✰✰✰✰
My face felt soooo good after using this mask. It's so moisturizing. Would definitely buy again.

Mallorie G ✰✰✰✰✰
I can't even describe the glow this mask gave me. This is only my second time trying a sheet mask, but I'm impressed.

Use this mask whenever your skin feels irritated and needs a boost of energy.

Apply before makeup

Put in fridge before application if you want an extra cooling effect

Do not wash off the essence after removing the sheet. Instead spread the remaining essence onto your neck, ears and the rest of the skin that needs that extra hydration.
Full Ingredients list:
Artemisia Capillaris Extract, Water, Dipropylene Glycol, Glycerin, 1,2-Hexanediol, Butylene Glycol, Centella Asiatica Extract, Melia Azadirachta Leaf Extract, Sodium Hyaluronate, Polygonum Cuspidatum Root Extract, Scutellaria Baicalensis Root Extract, Melia Azadirachta Flower Extract, Camellia Sinensis Leaf Extract, Glycyrrhiza Uralensis (Licorice) Root Extract, Eucalyptus Globulus Leaf Oil, Chamomilla Recutita (Matricaria) Flower Extract, Rosmarinus Officinalis (Rosemary) Leaf Extract, Dextrin, Salvia Officinalis (Sage) Oil, Juniperus Mexicana Oil, Paeonia Suffruticosa Root Extract, Brassica Oleracea Capitata (Cabbage) Leaf Extract, Hibiscus Esculentus Fruit Extract, Spinacia Oleracea (Spinach) Leaf Extract, Brassica Oleracea Italica (Broccoli) Extract, Artemisia Princeps Leaf Water, Carbomer, Allantoin, Tromethamine, Polyglyceryl-10 Laurate, Hydroxyacetophenone, Caprylyl Glycol, Xanthan Gum, Sodium Phytate, Caramel, Dipotassium Glycyrrhizate, Ethylhexylglycerin