Cleansing of the skin doesn't stop with our Quinoa One-Step Balanced Gel Cleanser. While a cleanser works on the top layer of the skin, a toner is what goes deeper in the pores to remove the remaining dead skin cells and impurities, in addition to refreshing the skin. A toner has six other functions that requires a lot of consideration when it comes to its ingredient content.


---
At AXIS-Y, we care not only about what ingredients we use, but also what technology we incorporate to achieve a product with high quality.


Breaks apart persistent dead skin cells.

Helps treat pityrosporum folliculitis (clogged pores with hair follicles) without causing sun sensitivity

Gently treats acne without irritating skin with a concentration of 0.5%, restoring sebum production balance.

6 INGREDIENTS : Centella Asiatica-110,000ppm, Tea Tree-10,000ppm, Sugar Cane, Narrowleaf Hawkweed, Houttuynia Cordata, Lotus

Remove persistent debris using alpha-hydroxy acid (AHA)

Reverse sun damage through natural phytonutrients

Boost skin's natural healing process to prevent acne scars

Calm irritation and inflammation

Boost local antioxidants to reduce fungal acne growth

Soothe painful irritations using anti-inflammatory properties

Prevent over production of oil

Eliminate acne-causing bacteria with antibacterial properties

Stimulate the growth of new skin cells

Leave skin looking plump and smooth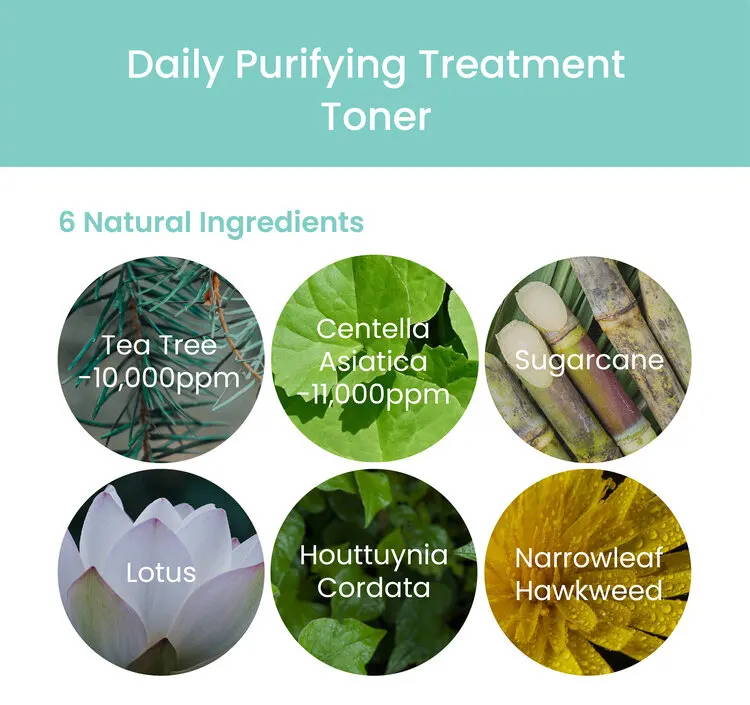 Extracting hawkweed using ultrasonic extraction method minimizes the destruction of useful ingredients, which has excellent antioxidant, anti-inflammatory, and skin improvement effects and reduces side effects on skin irritation.
---
What inspired the creation of our daily purifying treatment toner?

For skin that is oily and acne- prone, pore care is the most crucial part. At AXIS-Y, we wanted to focus our Daily Purifying Treatment Toner on balancing the foundation of the skin. This includes both its pH balance and sebum production balance.


When there is no pH and sebum production balance in the skin, it can lead to excess sebum production, which can lead to bacteria growth that causes acne.


That is why we decided to use 0.5% Salicylic Acid (BHA) which helps boost skin cell turnover that is important for clearing and preventing blemishes and balancing uneven-textured complexion.
Most of the time, acne-prone skin can be easily irritated. To help the skin without causing irritation, choosing the right ingredients is important. All of the ingredients at AXIS-Y are chosen thoroughly to prevent any sort of sensitivity—our main goal.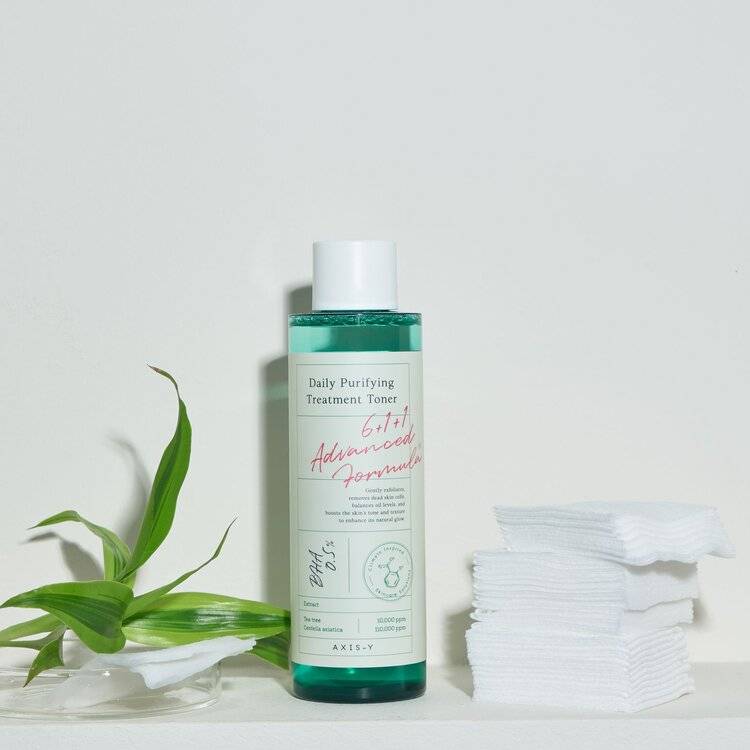 ---
Skin Benefits of Our Daily Purifying Treatment Toner

A multi-functional treatment toner, as the name suggests, purifies and treats the tone of the skin.
Here are more beneficial functions of our Daily Purifying Treatment Toner: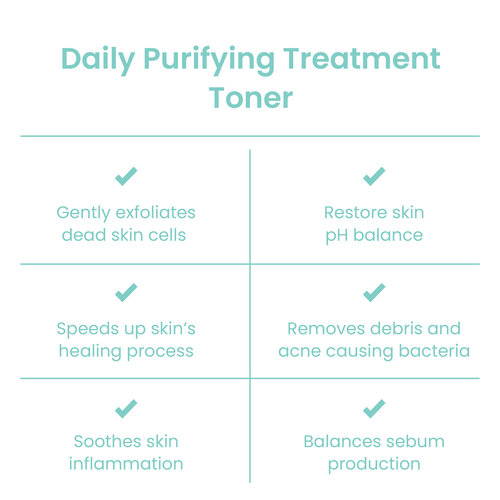 ---
We would love to go into more details to show you how our Daily Purifying Treatment Toner is effective, but results speak for themselves. Here are comments from people who use our Daily Purifying Treatment Toner: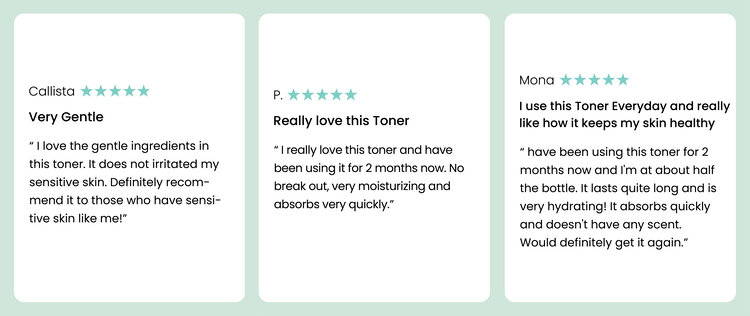 ---
Suitable for oily, combination skin types.

Good for sensitive, acne prone skin.
After cleansing , apply onto a cotton pad.

Gently wipe the cotton pad on areas with acne and irritation , while avoiding the area around eyes and lips.

Make sure to hydrate the skin to ensure a healthy skin barrier throughout the day. We recommend o

ur 611 Artichoke Intensive Skin Barrier Ampoule.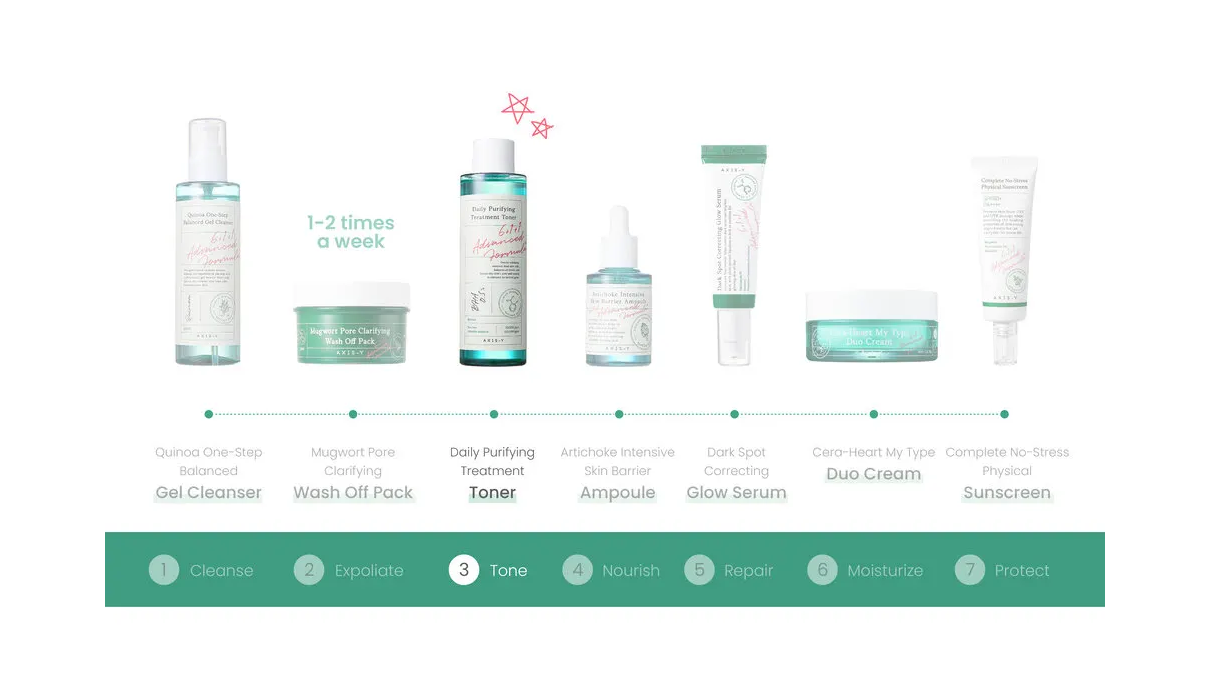 PARABENS

MINERAL OIL

ARTIFICIAL FRAGRANCES

ARTIFICIAL COLORS

NEVER TESTED ON ANIMALS
Water, Centella Asiatica Extract, Aloe Barbadensis Leaf Water, Butylene Glycol, Alcohol, Sodium Hyaluronate, Melaleuca Alternifolia (Tea Tree Extract), Sorbitan Sesquioleate, Vaccinium Myrtillus Fruit Extract, Saccharum Officinatum (Sugar Cane) Extract, Acer Saccharum (Sugar Maple) Extract, Citrus Aurantium Dulcis (Orange) Fruit Extract, Citrus Medica Limonum (Lemon) Fruit Extract, Betaine, Salicylic Acid, Salvia Officinalis (Sage) Extract, Houttuynia Cordata Extract, Hieracium Pilosella Extract, Illicium Verum (Anise) Fruit Extract, Citrus Paradisi (Grapefruit) Fruit Extract, Nelumbium Speciosum Flower Extract, Paeonia Suffruticose Root Extract, Scutellaria Baicalensis Root Extract, PEG-60 Hydrogenated Castor Oil, Chlorphenesin, Ethylhexylglycerin, Sodium Citrate, Gluconolactone, Arginine, Rheum Palmatum Root Extract, Artemisis Princeps Leaf Extract, Panax Ginseng Root Extract, Carbomer, Dimethly Sulfone, Lavandula Angustifolia (Lavender) Oil, Melaleuca Alternifolia (Tea Tree) Leaf