Knowing your skin type is actually hard, especially if you can not keep up with its changes. One day your T-zone is oily, the other day it is dry and dehydrated. Does it mean that you should change your skincare routine every time your skin is misbehaving? Yes, you should. However, it can be time consuming, confusing and can lead you to spend a lot of money. To make your skincare routine less stressful, we decided to come up with a product that has two formulas for your skin fluctuations in one product—our Cera-Heart My Type Duo Cream.
---
At AXIS-Y, we care about not only what ingredients we are use, but also the technology we incorporate to achieve a product with high quality.
Helps control excessive oils

Defends against bacteria and fungi

Prevents sun damage
Helps to retain skin moisture

Protects the skin from aggressive irritants

Has anti-aging effect
CENTELLA ASIATICA-110,000PPM (U/Z), PURSLANE (U), SORGHUM (U/Z), SAGE (T), ALLANTOIN (U/Z), RICE (T)
Improve skin's moisture levels, fight premature aging, and is rich in natural antioxidants.

Gentle for sensitive skin, stimulate production of collagen, and defend against free-radicals.

Skin brightening effect, reduce appearance of wrinkles, and support development of new skin cells.

Soothe irritation, defend against bacteria and fungi, and regulate sebum production.

Aid in the healing of skin, increase skin smoothness, and fight premature aging

Help brighten skin, strengthen skin barrier, and reduce oil production
Revolutionary Technology: Pure Medi (U Zone)
Enhances the production of collagen , reduces collagenase ( an inhibitor of collagen production), and reduces wrinkles.
---
What inspired the creation of our Cera-Heart My Type Duo Cream?

Depending on different factors like the climate and our body's condition, your skin type is ever changing.
With this in mind, we wondered if there is any way we can create a facial cream that can address this concern while making our skincare routine an attractive and personalized experience.
We came up with two keywords that later became the backbone of our brainstorming sessions: balanced skin and self-clinic.
And our Cera-Heart My Type Duo Cream is just that—a duo cream that we can customize our skincare routine based on how our skin looks and feels to create a unique, "my type" routine for healthy and happy skin always.
Fact: Different factors such as pollution, climate, and health hugely affect the well-being of our skin. These changes can lead to change in skin type.
---
Skin Benefits of Our Cera-Heart My Type Duo Cream

A "U Zone" and "T Zone" cream that tends to your skin's year-round, ever-changing moisturizing needs for a youthful, nourished glow. Our Cera- Heart My Type Duo Cream has two unique formulas for every moisturizing need. It hydrates oily skin without the greasiness while softening and supporting dry skin at the same time. Here is a brief summary of 6 skin benefits that you can get from our Cera-Heart My Type Duo Cream: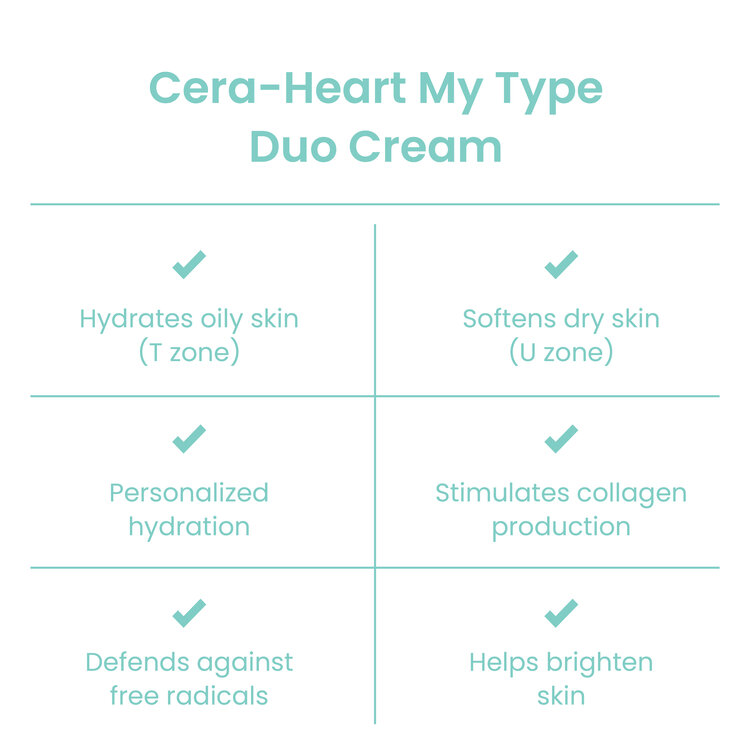 ---
We would love to go into more details to show you how our Cera-Heart My Type Duo Cream is effective, but results speak for themselves. Here are comments from people who have used our Cera-Heart My Type Duo Cream: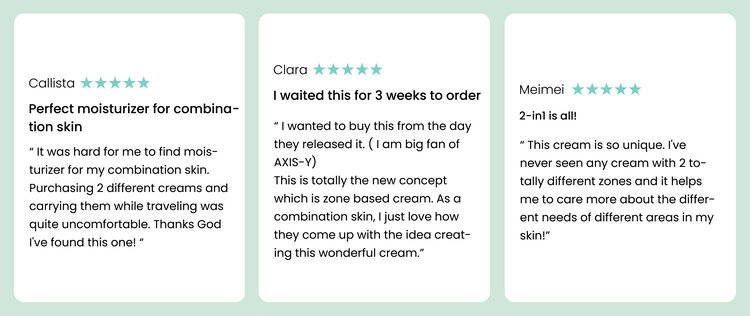 ---
Suitable for all skin types

Best solution for combination skin type

Good for sensitive and acne prone skin
Apply it directly onto skin before sunscreen or sleeping

Gently pat across face until fully absorbed

Make sure to protect the skin with a sunscreen after if used during the day.

Crafted for combination skin type for a skincare routine that is easy and effective.



"T zone"- blue formula - for oily area
" U zone"- white formula - for dry and normal area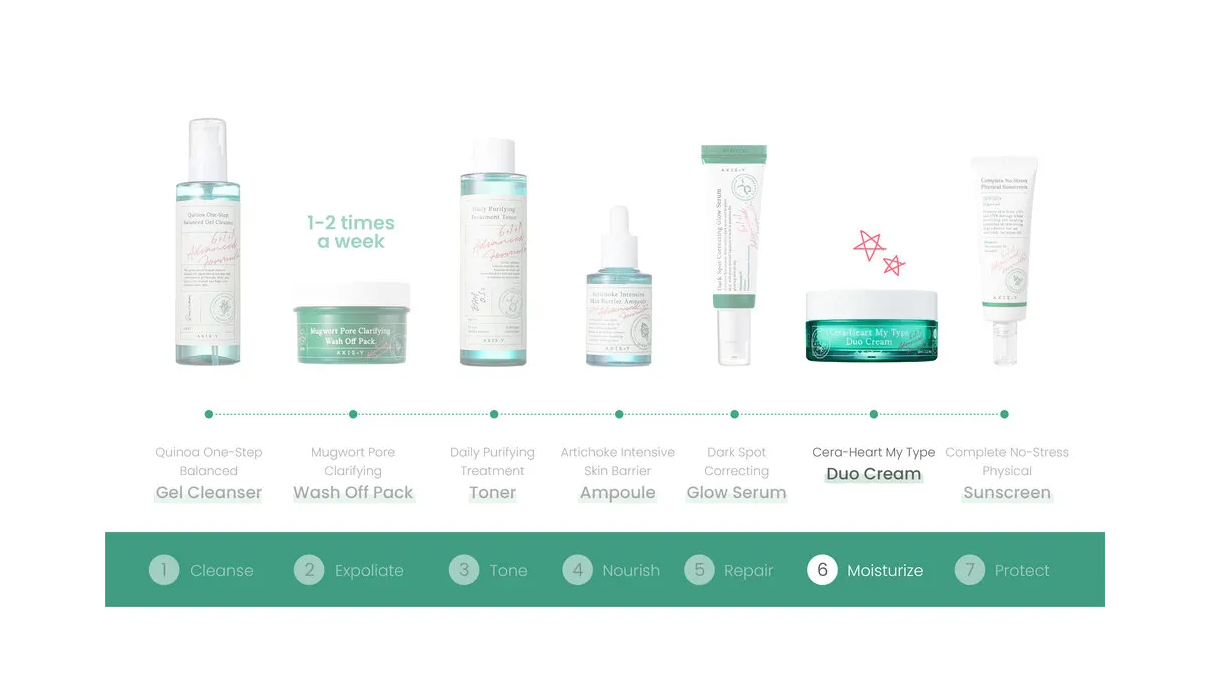 Formulated without:
PARABENS

MINERAL OIL

ARTIFICIAL FRAGRANCES

ARTIFICIAL COLORS

NEVER TESTED ON ANIMALS

---
Water, Propanediol, Glycerin, Sodium Hyaluronate, Butylene Glycol, Sorbitol, Isohexadecane, Caprylic/Capric Triglyceride, Houttuynia Cordata Extract, Betaine, Centella Asiatica Extract, Glyceryl Stearate, Salvia Officinalis (Sage) Extract, Glycyrrhiza Glabra (Licorice) Root Extract, Sorghum Bicolor Leaf/Stem Extract, Aspergillus Ferment, Chlorphenesin, Arginine, Acrylates/C10-30 Alkyl Acrylate Crosspolymer, Allantoin, Sorbitan Sesquioleate, Ethylhexylglycerin, Xanthan Gum, Guaiazulene


Water, Butylene Glycol, Glycerin, Cetyl Ethylhexanoate, Simmondsia Chinensis (Jojoba) Seed Oil, Caprylic/Capric Triglyceride, Isohexadecane, Sodium Hyaluronate, Ceramide NP, Sorbitan Stearate, Glyceryl Stearate, Microcrystalline Wax, Sorbitol, Centella Asiatica Extract, Candelilla Cera, Sorbitan Sesquioleate, Sorghum Bicolor Leaf/Stem Extract, Aspergillus Ferment, Portulaca Oleracea Extract, Salicornia Herbacea Extract, Phragmites Communis Extract, Chlorphenesin, Arginine, Carbomer, Xanthan Gum, Allantoin, Ethylhexylglycerin