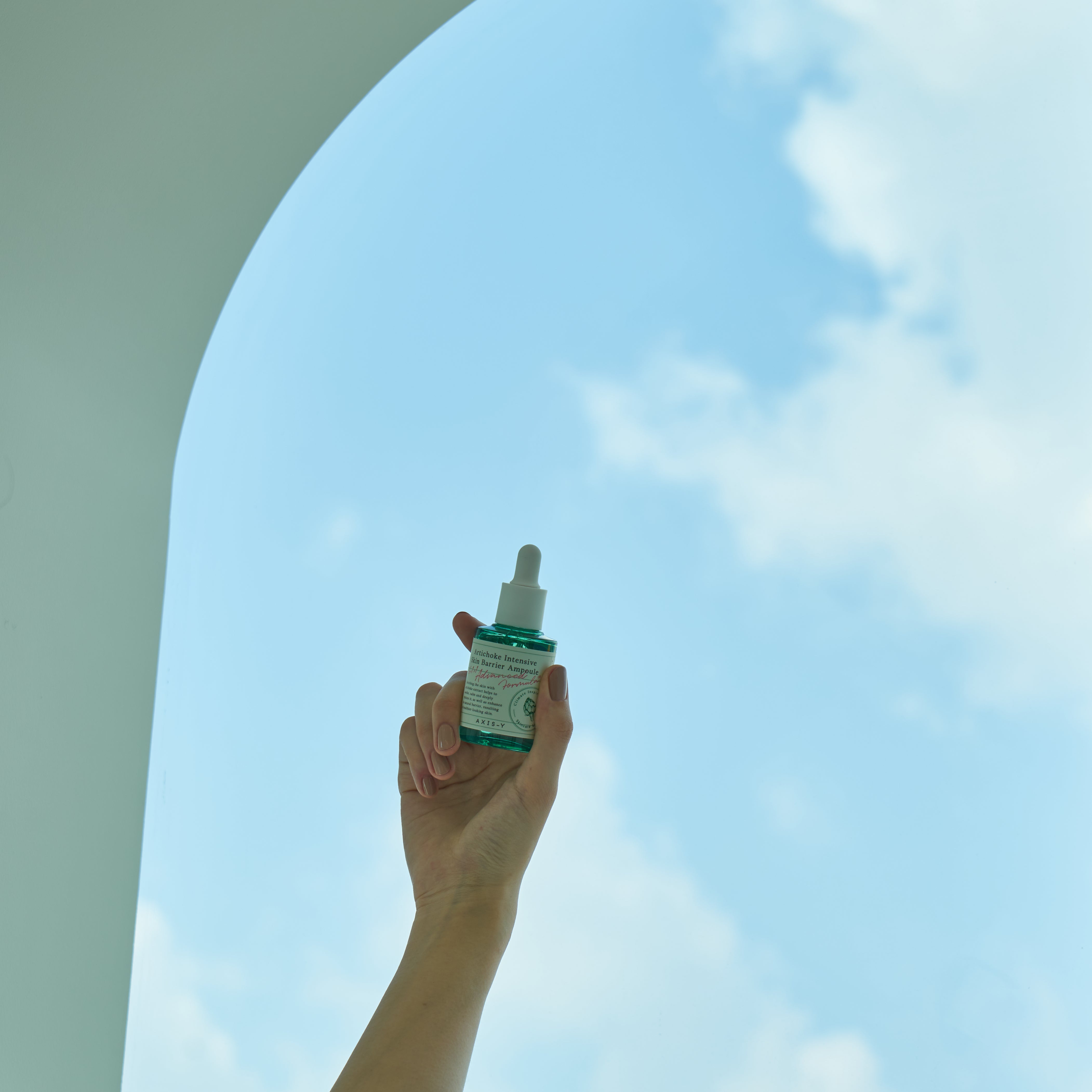 After finishing the cleansing step with our Daily Purifying Treatment Toner, your skin is now ready for key nourishing ingredients. As per the basic rule in a skincare routine, you should apply products from lightest to heaviest. After applying a toner, the lightest product in our 611 skincare line is our Artichoke Intensive Skin Barrier Ampoule. Let's observe what ingredients our ampoule consists of that makes it not only light, but also deeply effective.
---
At AXIS-Y, we care not only about what ingredients we use, but also what technology we incorporate to achieve products with high quality. For every serum or ampoule that we develop, we want to ensure that they are full of skin-loving ingredients.
Most of the time, acne-prone skin can be easily irritated. To help the skin without causing irritation, choosing the right ingredients is important. All of the ingredients at AXIS-Y are chosen thoroughly to prevent any sort of sensitivity - our main goal.


FUNCTIONAL, GOAL- ORIENTED AGENT
Artichoke

Our key ingredient, artichoke, helps the skin retain moisture and build up cell wall density for reduced pores. It also nourishes the skin from the inside giving the skin a smooth, plumped appearance.

 
| | |
| --- | --- |
| Ingredient | Benefit |
| | Boosts skin's natural healing process, prevents acne scars |
| | Removes harmful skin cells |
| | Brightens and calms inflammation of sensitive skin |
| | Soothes painful irritations using its anti-inflammatory properties |
| | Helps soothe skin and acts as an anti-inflammatory agent |
| | Deeply hydrates to support the development of healthy skin cells |
Effective echnology: Hawkweed Extraction Method
Extracting hawkweed using ultrasonic extraction method minimizes the destruction of useful ingredients, which has excellent antioxidant, anti-inflammatory, and skin improvement effects and reduces side effects on skin irritation.
---
What inspired the creation of the Artichoke Intensive Skin Barrier Ampoule?

With an ampoule, a little goes a long way. With oily and acne-prone skin, you need a product that is light, non sticky, fast absorbing, and most importantly, effective. At AXIS-Y, we decided to implement all these features in our Artichoke Intensive Skin Barrier Ampoule with the addition of some very helpful functions that can give the skin a glowy and healthy look.


Our ampoule delivers rich antioxidants, nutrients, and hydration to heal damaged, irritated skin barrier.
Sensitive skin is a very thin and easily damaged skin barrier. Protecting it is one of the crucial things that anyone can do with the right skincare, like AXIS-Y's 611 skincare line.


---
Skin benefits of Artichoke Intensive Skin Barrier Ampoule
This ampoule greatly boosts the skin's hydration level after every application. It locks in moisture and keeps skin hydrated for more than 6 hours. In addition, it is easily and quickly absorbed by skin within seconds without leaving any stickiness. Moreover, our ampoule soothes cracked skin and leaves skin feeling smooth after every application. Here is a brief summary of 6 skin benefits that you can get from our Artichoke Intensive Skin Barrier Ampoule: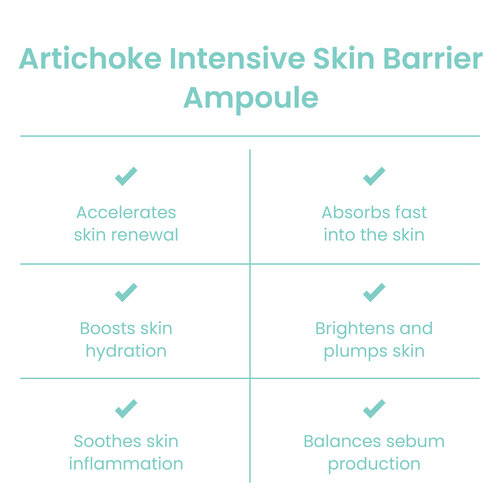 ---
Aimee ★★★★★
I like this serum it made my skin feel more smooth overall

Krissy K ★★★★★
Everything I have used has left my skin feeling amazing! I've struggled with finding skincare that works for me and finally I've found something that works! My breakouts are going away along with my acne scarring. It's amazing, my skin feels so soft and hydrated! I'm absolutely in love with all their products!
---
Suitable for all skin types

Good for sensitive and Acne prone skin
After toning with our Daily Purifying Treatment Toner , apply it directly onto skin

Gently Pat across face until fully absorbed

Make sure to hydrate and protect the skin with a moisturizer and a sunscreen to protect the skin throughout the day.


Crafted specifically to keep the skin hydrated and nourished.
PARABENS

MINERAL OIL

ARTIFICIAL FRAGRANCES

ARTIFICIAL COLORS

NEVER TESTED ON ANIMALS
Water, Aloe Barbadensis Leaf Water, Butylene Glycol, Sodium Hyaluronate, Centella Asiatica Extract, Glycerin, Betaine, Propanediol, Glycyrrhiza Uralensis (Licorice) Root Extract, Hieracium Umbellatum Extract, Cynara Scolymus (Artichoke) Leaf Extract (10,000ppm), Sorbitol, Aloe Barbadensis Leaf Extract, Dioscorea Japonica Root Extract, Laminaria Japonica Extract, 1,2-Hexanediol, Xanthan Gum, Carbomer, Linum Usitatissimum (Linseed) Seed Extract, Hibiscus Esculentus Fruit Extract, Aloe Barbadensis Leaf Juice, Arctium Lappa Root Extract, Hibiscus Mutabilis Flower Extract, Corchorus Olitorius Leaf Extract, Rheum Palmatum Root Extract, Althaea Rosea Flower Extract, Dimethyl Sulfone, Chlorphenesin, Ethylhexylglycerin, Polyglutamic Acid, Beta-Glucan, Arginine, Allantoin, Adenosine